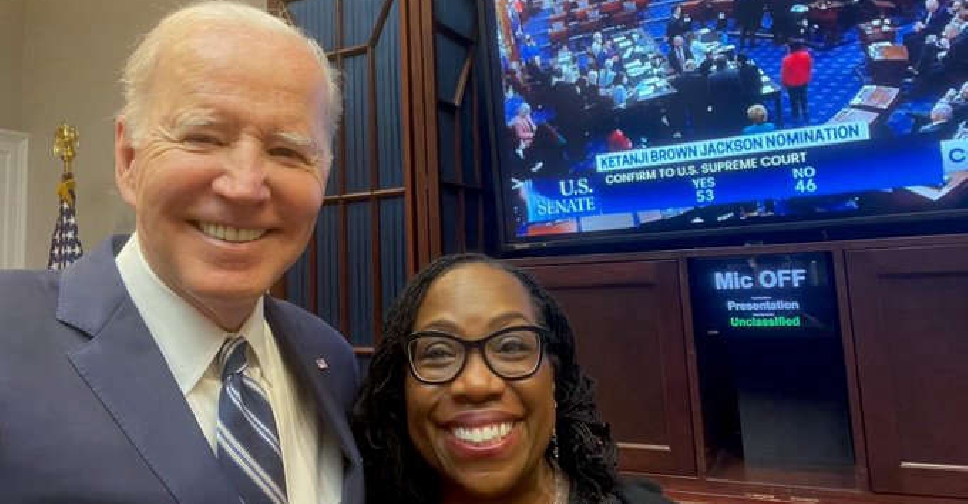 Ketanji Brown Jackson was confirmed by the US Senate on Thursday as the first Black woman to serve on the Supreme Court in a milestone for the United States.
The appointment is a victory for President Joe Biden, who made good on a campaign promise to bring a wider range of backgrounds to the federal judiciary.
The vote to confirm the 51-year-old federal appellate judge to a lifetime job on the nation's top judicial body was 53-47, with three Republicans - Susan Collins, Lisa Murkowski and Mitt Romney - joining Biden's fellow Democrats. A simple majority was needed, as Jackson overcame Republican opposition in a Supreme Court confirmation process that remains fiercely partisan.
Jackson will take the 83-year-old Breyer's place on the liberal bloc of a court with an increasingly assertive 6-3 conservative majority. Breyer is due to serve until the court's current term ends - usually in late June - and Jackson would be formally sworn in after that. Jackson served early in her career as a Supreme Court clerk for Breyer.
Biden hosted Jackson at the White House to watch the vote on television, posting on Twitter a selfie he took of them smiling after Senate acted.
"Judge Jackson's confirmation was a historic moment for our nation. We've taken another step toward making our highest court reflect the diversity of America. She will be an incredible Justice, and I was honored to share this moment with her," Biden wrote on Twitter.
Of the 115 people who have served on the Supreme Court since its 1789 founding, all but three have been white. It has had two Black justices, both men: Clarence Thomas, appointed in 1991 and still serving, and Thurgood Marshall, who retired in 1991 and died in 1993. Current Justice Sonia Sotomayor is the only Hispanic ever to serve.
Jackson will become the sixth woman justice ever. For the first time, four women will serve on the court together.