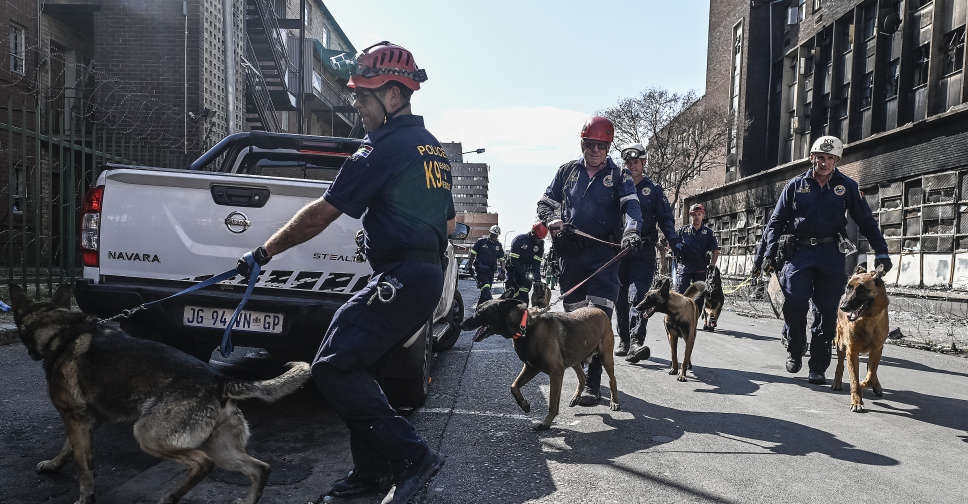 AFP
Police with sniffer dogs searched on Friday through the gutted remains of a Johannesburg apartment block as authorities stepped up investigations into the cause of a fire that killed more than 70 people.
Officers cordoned off areas around the run-down five-storey building that was destroyed in a blaze in the early hours of Thursday in one of South Africa's worst such disasters in living memory.
Most of the bodies were burned beyond recognition and investigators would have to rely on DNA samples from friends and relatives to identify them, said Thembalethu Mpahlaza from Gauteng province's Forensic Pathology Services.
Only 12 of the 74 bodies they had recovered so far were identifiable by sight, he added.
The apartment block is owned by municipal authorities, but officials have struggled to provide a clear picture of who lived there, saying the block had been "invaded and hijacked" by unknown groups.
A provincial official said on Thursday some of those who died may have been renting from, or were being extorted by, criminal gangs in the so-called "hijacked buildings" syndicates.
President Cyril Ramaphosa said on Thursday the fire was "great tragedy" and a wake-up call for South Africa to tackle its inner-city housing crisis.