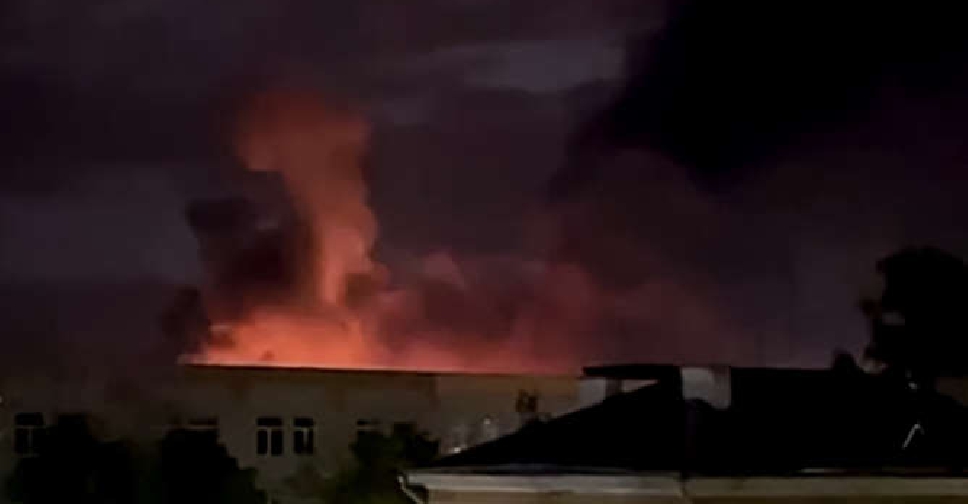 A screengrab taken from a video posted on the Telegram account of Mikhail Vedernikov, the governor of Russia's Pskov region. Photo: HANDOUTTELEGRAM / @MV_007_PSKOV/ AFP
Ukrainian drones struck targets in at least six regions deep within Russia on Wednesday, including an airfield where they destroyed military transport planes, in one of the broadest volleys yet of Kyiv's campaign to turn the tables on Moscow.
Russian officials described attacks on targets in the Pskov, Bryansk, Kaluga, Orlov, Ryazan and Moscow regions. The Russian foreign ministry said the attacks would "not go unpunished" and the drones could not have reached so far into Russian territory without Western help.
In northern Russia, more than 600 km from Ukraine, a huge fire erupted at a military airfield in the city of Pskov, where elite paratroopers are garrisoned. Tass news agency reported at least four giant Il-76 transport planes were damaged, two of which had "burst into flames".
The attacks coincided with Russia's most severe air strikes on Ukraine's capital for months. Authorities in Kyiv reported at least two people had been killed as debris from intercepted missiles fell in four locations.
Reuters captured footage of a fireball falling out of the night sky close to a supermarket, detonating in a huge explosion that lit up nearby apartment blocks. Moscow said it hit command and intelligence targets.
In Russia, the governor of Pskov posted video on Telegram showing a huge fire with the sounds of sirens and an explosion at the air base. Other video posted online showed anti-aircraft systems in action around the city, which is just 32 km (20 miles) east of Russia's border with NATO-member Estonia.
Moscow said it had thwarted all the attacks on Russia. Russia typically describes all Ukrainian drone strikes as unsuccessful, regardless of the damage on the ground.
Kremlin spokesman Dmitry Peskov said Russia was working out where the drones were launched from to prevent further strikes. President Vladimir Putin had been informed immediately, as would be the case in any such "massive attacks", Peskov said.
Kyiv confirmed the Russian planes had been destroyed in Pskov, without commenting on the nature of the incident. It generally withholds comment on strikes on territory inside Russia though it says it has a right to hit military targets.