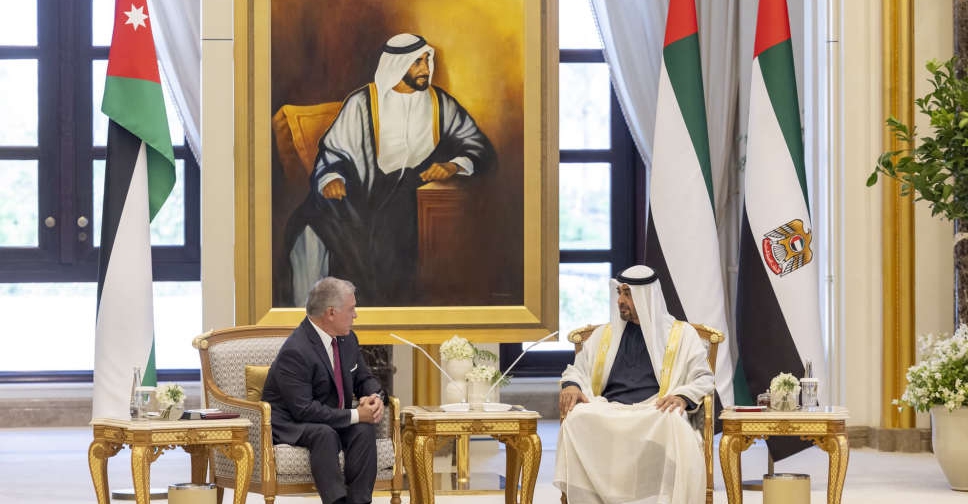 The UAE's President His Highness Sheikh Mohamed bin Zayed Al Nahyan held talks on Wednesday with Jordan's King Abdullah II bin Al Hussein on the deep-rooted relations between their countries.
The two leaders explored opportunities to strengthen cooperation, especially in the fields of economy, investment, industry, food security and other vital areas that serve the strategic priorities of both countries.
During the meeting, which took place at Qasr Al Watan in Abu Dhabi, they also reviewed regional and international issues, particularly efforts to respond to the humanitarian situation in the Gaza Strip.
They emphasised the need for urgent international action to stop the escalation and provide full protection for civilians as well as ensuring the delivery of aid.
The two leaders stressed the need to spare the region the consequences of a new spiral of violence and work towards establishing a clear political horizon for peace.
Sheikh Mohamed said that UAE-Jordan relations are deep-rooted and historical, extending from the era of the late Sheikh Zayed bin Sultan Al Nahyan and King Hussein bin Talal.
These relations are based on trust, understanding, and mutual respect. His Highness noted that King Abdullah's visit to the UAE reflects the unique governmental and people-to-people ties between the two nations.
Sheikh Mohamed and King Abdullah witnessed the exchange of memoranda of understanding worth $6 billion between the UAE and Jordan, aiming to enhance cooperation to achieve sustainable development and prosperity.
These include a MoU in the field of investment, a memorandum between Abu Dhabi Developmental Holding Company (ADQ) and the Jordan Investment Fund, and a memorandum concerning a grant from the UAE Government to finance development projects in Jordan.
I was pleased to receive @KingAbdullahII of Jordan to discuss the deep-rooted and historic bonds between our nations. Through robust economic partnership and people-to-people engagement, the UAE and Jordan remain united in joint efforts to fortify regional cooperation,… pic.twitter.com/eUhVLpqZOU

— محمد بن زايد (@MohamedBinZayed) November 1, 2023