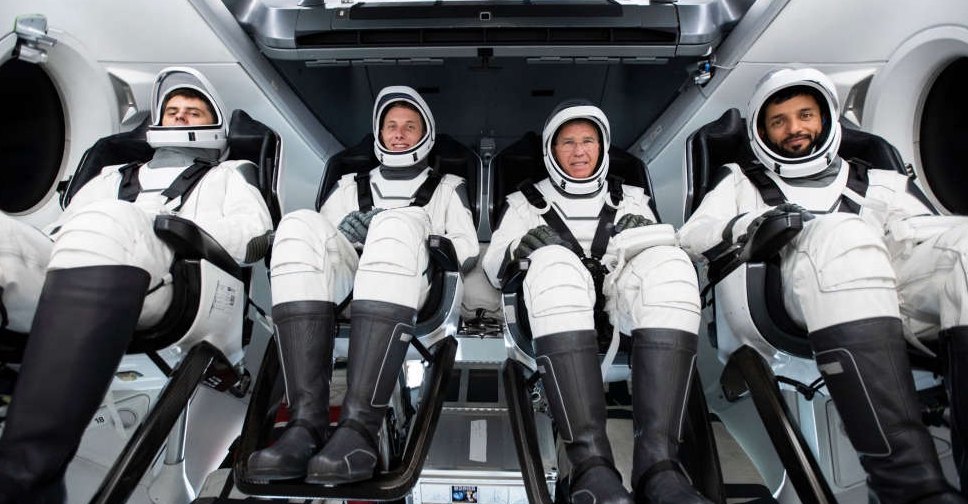 Dubai Media Office
Emirati astronaut Sultan Al Neyadi has floated into the International Space Station (ISS), embarking on the longest space mission in Arab history.
In his first address from the International Space Station, Al Neyadi said "the UAE has taken great steps towards pushing the boundaries of space exploration... to seek new endeavours into space."
He also expressed gratitude to the UAE leadership, his family and the Mohammed bin Rashid Space Centre for the incredible opportunity he has been given, before concluding: "Go Dragon, go Spacex".
أول رسالة من رائد الفضاء سلطان النيادي بعد وصوله إلى محطة الفضاء الدولية. #طموح_زايد #أطول_مهمة_فضائية_في_تاريخ_العرب pic.twitter.com/NHV1JQiYN0

— MBR Space Centre (@MBRSpaceCentre) March 3, 2023
Al Neyadi and Crew-6 mates were welcomed aboard the space station by seven current ISS occupants - three NASA crew members, including commander Nicole Aunapu Mann, the first Native American woman to fly to space, along with three Russians and a Japanese astronaut.
The team had docked at the ISS after travelling nearly 25 hours onboard the SpaceX Dragon spacecraft.
Initially, NASA and SpaceX had to delay the docking process following an issue with the spacecraft hooks.
The team blasted off from NASA's Kennedy Space Center at Cape Canaveral in Florida on Thursday, a few days later than originally planned due to a delay in "grounds issue".
Earlier, in a series of updates, the Mohammed bin Rashid Space Centre (MBRSC) tracked the journey of Crew-6, highlighting the "incredible moment" when Al Neyadi was "flying above the UAE".
Incredible moment!

Astronaut Sultan AlNeyadi flying above the UAE aboard the Dragon spacecraft on the way to dock with the International Space Station.#UAE2Space#TheLongestArabSpaceMission

— MBR Space Centre (@MBRSpaceCentre) March 3, 2023
The crew's six-month science mission will encompass about 200 experiments and technology demonstrations, ranging from research on human cell growth in space to controlling combustible materials in microgravity.
The ISS, about the length of a football field, has been continuously operated for more than two decades by a US-Russian-led consortium that includes Canada, Japan and 11 European countries.
Watch the arrival of astronaut Sultan AlNeyadi to the International Space Station on 3 March, where he will carry out the longest Arab space mission in history. https://t.co/P26WYlC2U8

— MBR Space Centre (@MBRSpaceCentre) March 3, 2023