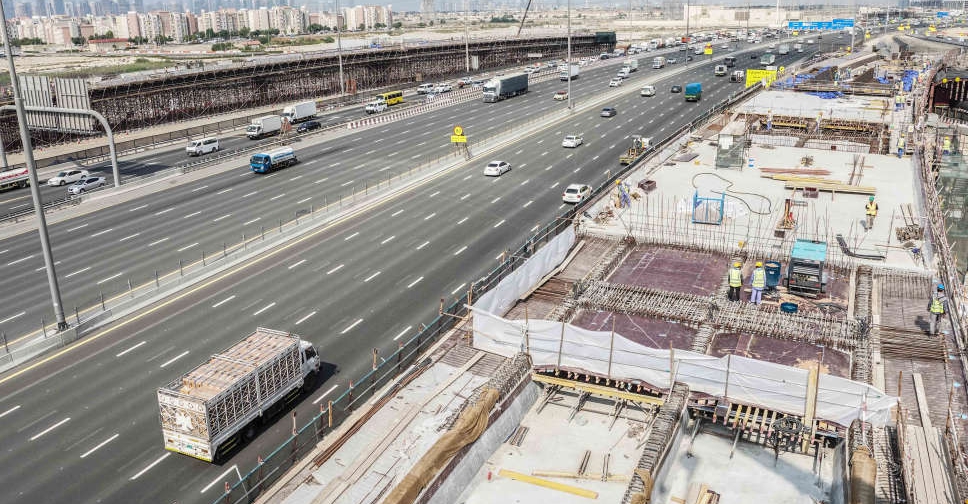 Dubai's Roads and Transport Authority (RTA) has announced the completion of 50 per cent of the Garn Al Sabkha-Sheikh Mohammed bin Zayed Roads Intersection Improvement Project.
The construction of the foundations and columns of bridges has been completed with work on casting the bridge walls, installing iron supports, expanding the roads, lighting works, and rainwater drainage networks, ongoing.
His Excellency Mattar Al Tayer, Director General, Chairman of the Board of Executive Directors, RTA said, "Once opened, the project will cut down the distance and the journey time by 40 per cent for traffic heading from Garn Al Sabkha Street to Sheikh Mohammed bin Zayed Road towards Al Qusais and Sharjah.
"It will slash the peak hour journey times from 20 minutes to just 12 minutes. It will also diminish the journey time by 70 per cent from 21 minutes to seven minutes for traffic going from Sheikh Mohammed bin Zayed Road right to Al Yalayis Road towards Jebel Ali Port."
The project includes road works over seven kilometres, the enhancement of surface intersections on the service road parallel to Sheikh Mohammed bin Zayed Road, as well as street lighting, traffic signs, traffic systems, rainwater drainage system and an irrigation network.
The project is undertaken in response to the directives of His Highness Sheikh Mohammed bin Rashid Al Maktoum, Vice President and Prime Minister of the UAE and Ruler of Dubai to enhance the road network infrastructure in Dubai to cope with the ongoing urban and population growth of Dubai, under the follow up of His Highness Sheikh Hamdan bin Mohammed bin Rashid Al Maktoum, Crown Prince of Dubai and Chairman of the Executive Council.
هيئة الطرق والمواصلات تعلن عن إنجاز 50% من مشروع تطوير تقاطع شارع جرن السبخة مع شارع الشيخ محمد بن زايد، الذي يشمل تنفيذ أربعة جسور، بطول 2,874 متر، وبطاقة استيعابية قدرها 17,600 مركبة في الساعة.https://t.co/SHvbNLJ7Hn pic.twitter.com/Df3nFUtui4

— Dubai Media Office (@DXBMediaOffice) November 12, 2023