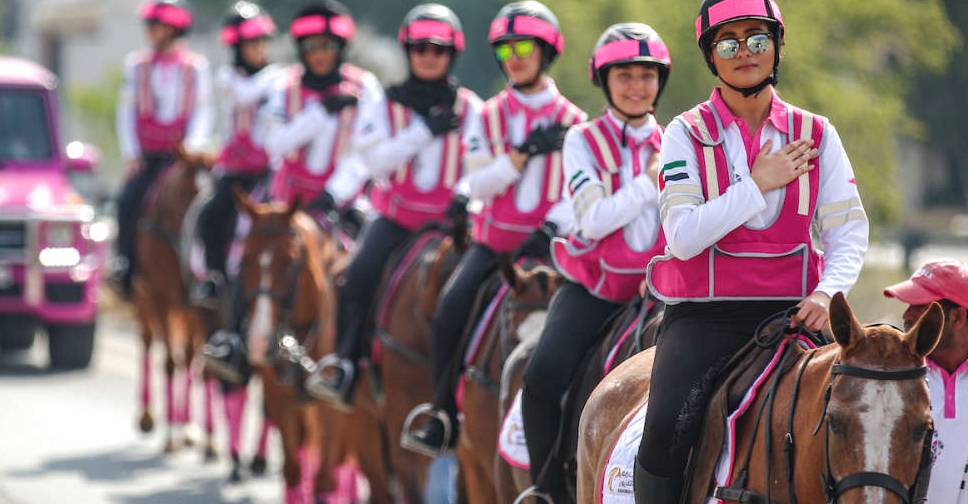 Supplied
The 11th edition of the Pink Caravan Ride will commence its journey around the Emirates on February 4, coinciding with World Cancer Day.
The annual initiative, which involves a procession of horses, has been raising awareness of the importance of early detection of breast cancer since 2011, offering free medical consultation and screening to UAE residents.
The inaugural day of the latest edition will raise awareness on the most prominent and preventable types of cancer, including breast, skin, colon, prostate and testicular cancer, in addition to childhood and cervical cancer.
Free breast cancer screenings will continue to be offered throughout the nationwide ride, including clinical, ultrasound and mammograms, for both women and men, aiding in dispelling the myth that men cannot get breast cancer.
Equestrians interested in taking part in the Ride, which runs from February 4-10, can register online.
To date, 910 volunteers have dedicated over 400,000 work hours, 820 equestrians from many different nations have travelled more than 1,950 km, and 986 PCR medical clinics have conducted over 75,000 free screenings, including 13,000 screenings for men.
"The annual ride draws strength and support from the Emirati society. Every equestrian, individual, institution and location that participates in the Pink Caravan Ride raises our motivation levels and empowers us to continue our monumental task of raising community awareness and enhancing the quality of life for all," said Reem Bin Karam, Chairperson of the Pink Caravan Ride Higher Steering Committee.