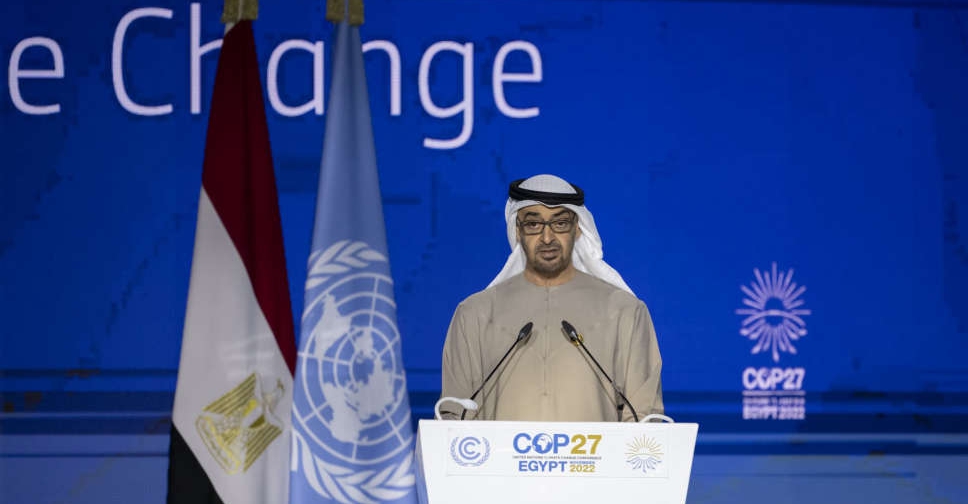 The UAE's President His Highness Sheikh Mohamed bin Zayed Al Nahyan, has met with a number of heads of state and officials on the sidelines of the COP27 conference in Sharm El Sheikh, Egypt.
He held talks with Israeli President Isaac Herzog, Macky Sall, President of Senegal, UK Prime Minister Rishi Sunak, and the International Monetary Fund's Managing Director Kristalina Georgieva.
The discussions focused on the importance of international cooperation and collaboration to find practical climate change solutions that enable sustainable development for all.
Sheikh Mohamed also toured the exhibitions and various events being held on the sidelines of COP27.
He was briefed about success stories, environmental experiences and artistic shows aimed at raising awareness about climate change.
The UAE President lauded the creative ideas of the participants and the importance of the topics addressed by various workshops and discussions.
He also commended the successful organisation of the conference and its side events, highlighting the level of international participation, which underscores the capacities of Egypt in organising such international events.
His Highness visited the pavilions of the Kingdom of Saudi Arabia and Bahrain, where he met with Prince Salman bin Hamad Al Khalifa, Crown Prince and Prime Minister of Bahrain.
The tour also included the pavilions of the United Nations and the UAE, where he met with the staff of the country's pavilion representing various authorities, which are showcasing several clean energy and environmental action initiatives.
Sheikh Mohamed was accompanied by H.H. Sheikh Mansour bin Zayed Al Nahyan, Deputy Prime Minister and Minister of the Presidential Court; H.H. Sheikh Abdullah bin Zayed Al Nahyan, Minister of Foreign Affairs and International Cooperation; H.H. Sheikh Hamdan bin Mohamed bin Zayed Al Nahyan, and Sheikh Mohammed bin Hamad bin Tahnoon Al Nahyan, Special Affairs Advisor at the Ministry of the Presidential Court.