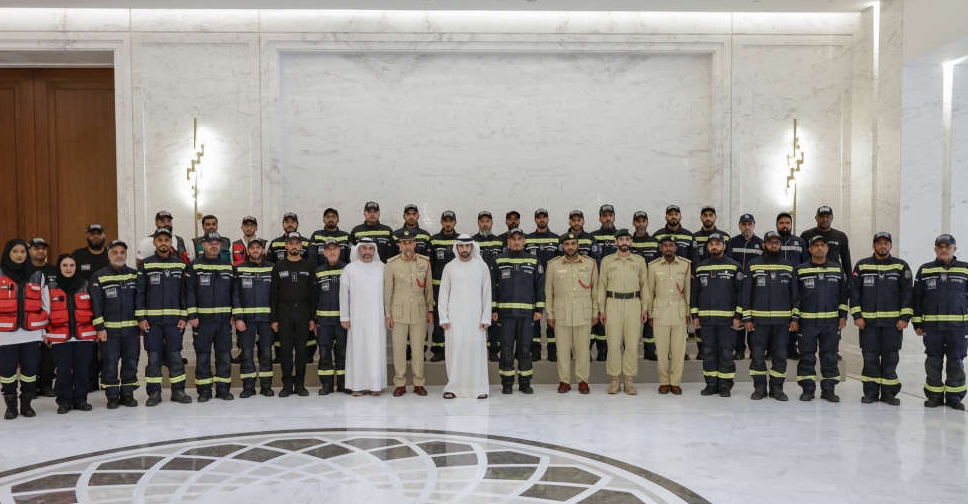 @DXBMediaOffice/ Twitter
His Highness Sheikh Hamdan bin Mohammed bin Rashid Al Maktoum, Crown Prince of Dubai, today met with members of the search and rescue teams from Dubai who took part in the 'Gallant Knight 2' operation to help those affected by the recent earthquake in Turkey.
Lieutenant General Abdullah Khalifa Al Marri, Commander-in-Chief of Dubai Police, accompanied His Highness during the meeting that took place in Expo City Dubai.
Sheikh Hamdan praised the heroic role and high levels of efficiency of the teams from Dubai Police and the Dubai Corporation for Ambulance Services who took part in the rapid response, recovery and rehabilitation stages of the operation in the Turkish city of Kahramanmaraş.
He highlighted the UAE's commitment to providing humanitarian aid to those in need in times of adversity, guided by the ideals of the late Sheikh Zayed bin Sultan Al Nahyan.
"The UAE today, under the leadership of President His Highness Sheikh Mohamed bin Zayed Al Nahyan, the directives of His Highness Sheikh Mohammed bin Rashid Al Maktoum, Vice President and Prime Minister of the UAE and Ruler of Dubai, and the support of the Supreme Council Members and Rulers of the Emirates, remains committed to providing a helping hand to communities around the world facing crises," he added.
During the meeting, Sheikh Hamdan was briefed by Colonel Khalid Ibrahim Al Hammadi, the leader of the search and rescue team, about their rescue operations in the Turkish city, which was heavily affected by the earthquakes.
The success of the mission reflects the advanced capabilities of the Emirati team in dealing with emergencies.
.@HamdanMohammed meets with members of the search and rescue team of Dubai Police and the Dubai Corporation for Ambulance Services who took part in the 'Gallant Knight 2' operation in the Turkish city of Kahramanmaraş.https://t.co/1JVrdDaGpO pic.twitter.com/BKH1oBOyK2

— Dubai Media Office (@DXBMediaOffice) February 27, 2023