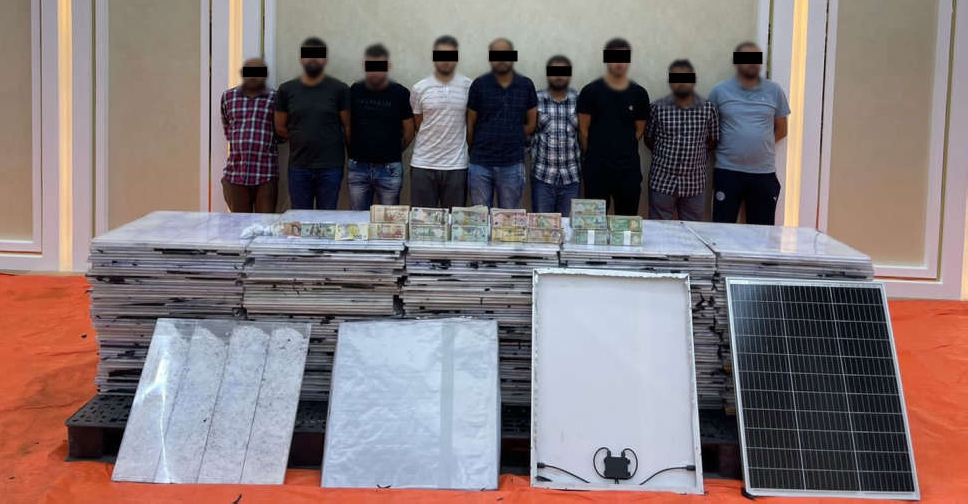 Dubai Police
An attempt to smuggle drugs with a street value of more than AED 68.5 million into the UAE has been thwarted by the anti-narcotics unit of Dubai Police.
Ten suspects have been arrested after 1,056 kg of crystal meth was found concealed in a shipment of 264 solar panels.
Dubbed Operation Panels, the General Department of Ani-Narcotics swooped after closely monitoring the movement of the suspects.
Major General Khalil Ibrahim Al Mansouri, Assistant Commander-in-Chief for Criminal Investigation Affairs, explained how they formed a task force after receiving a tip-off on an international drug syndicate intending to smuggle drugs from a South American country in a shipment of solar panels.
Brigadier Eid Muhammad Hareb, Director of the General Department for Anti-narcotics, said their teams captured them red-handed.
Officials explained how the anti-narcotics teams tracked the first suspect as he transferred the shipment from the port into a warehouse, eventually leading to the nine remaining suspects.
في عملية استباقية، أحبطت القيادة العامة لـ #شرطة_دبي ممثلة بالإدارة العامة لمكافحة المخدرات، تهريب طن و56 كيلو جراماً من مخدر الكريستال، بقيمة سوقية بلغت 68 مليوناً و640 ألفاً درهم pic.twitter.com/ezEAvvU7ft

— Dubai Policeشرطة دبي (@DubaiPoliceHQ) April 18, 2022