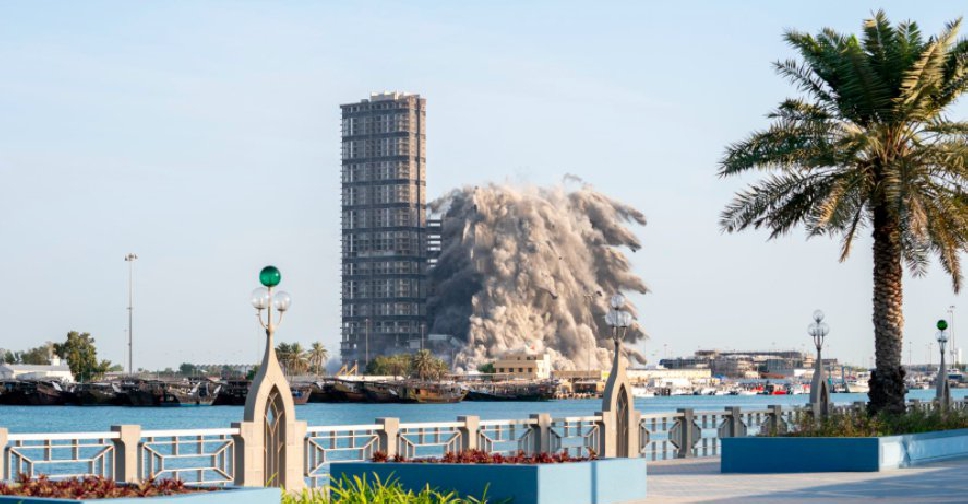 WAM
The Mina Plaza Towers in the capital was razed to the ground in 10 seconds on Friday morning, to make way for a major redevelopment project.
The 144 floors of the abandoned towers were demolished using a "controlled explosion".
Authorities had put in place strict safety measures to "mitigate the effects of the demolition and control dust clouds".
تمت بحمد الله عملية هدم أبراج ميناء بلازا ضمن مشروع تطوير منطقة الميناء في أبوظبي في ١٠ ثوانٍ بنجاح وأمان. تتقدم دائرة البلديات والنقل بالشكر إلى جميع الجهات المشاركة وللجمهور على تعاونهم والتزامهم بإجراءات السلامة في المنطقة. pic.twitter.com/Cd4BKNXxf4

— مكتب أبوظبي الإعلامي (@admediaoffice) November 27, 2020
As part of the second phase of the revitalisation of the Mina Zayed area in #AbuDhabi, @ModonProperties has successfully demolished Mina Plaza Towers in 10 seconds. pic.twitter.com/jwthmHU87c

— مكتب أبوظبي الإعلامي (@admediaoffice) November 27, 2020
The operation was commissioned by @AbuDhabiDMT in coordination with @ADPoliceHQ, Abu Dhabi Civil Defence, The National Crisis and Disasters Management Authority & National Ambulance, in line with the highest international safety measures.

— مكتب أبوظبي الإعلامي (@admediaoffice) November 27, 2020
Abu Dhabi Police had also implemented road closures around the area ahead of the demolition work.
#تنويه | مسارات إغلاق الطرق المؤدية باتجاه منطقة ميناء زايد يوم الجمعة 27 نوفمبر 2020 من الساعة 6 صباحاً لغاية إنتهاء الحدث #شرطة_أبوظبي pic.twitter.com/4EUfhErQWv

— شرطة أبوظبي (@ADPoliceHQ) November 26, 2020
The redevelopment project in Mina Zayed area will include renovating existing souks, building new fresh food markets as well as dedicated facilities for dates, carpets, plants and wholesale trading.
Existing shops will remain open while work is being carried out, and will be transferred to their new location on completion of the projects.