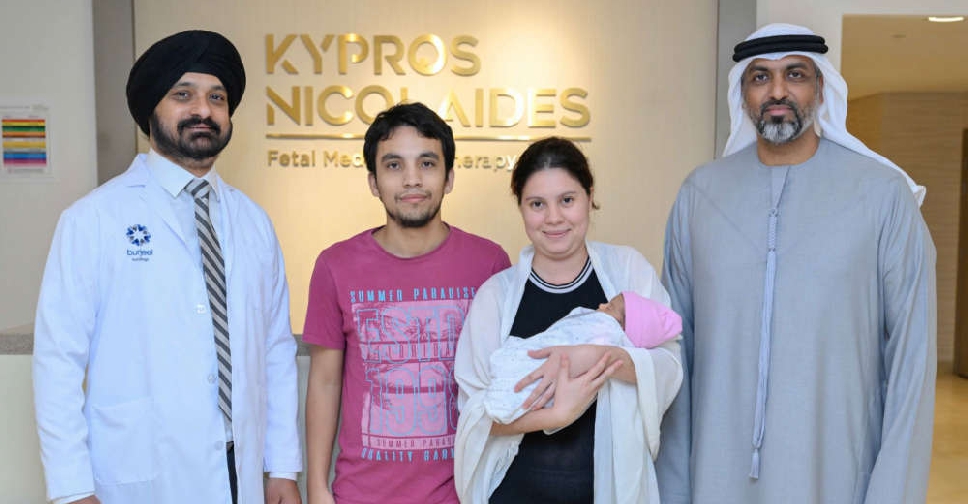 WAM
A Colombian couple is celebrating as their "miracle baby" born in Abu Dhabi has been given the all-clear to fly home.
A team of skilled surgeons at Burjeel Medical City, repaired the baby's spinal defect while she was still in her mother's womb, which has been hailed as an important milestone in the field of fetal medicine in the UAE.
Now, five weeks on, both baby Maryam Violeta and her mother, Liz Valentina Parra Rodriguez, are in good health and have been discharged from the hospital.
Open Spina Bifida is a birth defect that happens when the bones of the spine do not form, and this leads to the spinal cord being left exposed to amniotic fluid. The condition can lead to serious neurological complications and physical disabilities. Globally Spina Bifida affects one in every 1,000 births.
During the surgery, the doctors made a small incision on the uterus and the back of the baby was exposed to allow the neurosurgeon to close the spina bifida defect. The doctors used a synthetic patch to cover the defect and the amniotic fluid was then instilled back into the cavity and the uterus was closed and the baby remained in the womb for the remainder of the pregnancy.
After the procedure in June, the medical team led by Dr. Mandeep Singh, Consultant, Director of Kypros Nicolaides Fetal Medicine & Therapy Center at Burjeel Medical City, closely monitored the progress of the baby and the mother for two months.
Baby Maryam was delivered by Dr. Ritu Nambiar, Consultant, Obstetrician & Gynecologist, after Liz went into spontaneous labour at 35 +4 weeks.
Although it is too early to comment about the extent of recovery, the medical team is cautiously optimistic about her future. According to them, the urinary bladder is functioning well and both legs have normal tone and movements.
"The spina bifida repair was intact and hence the in-utero procedure is deemed successful. Baby Maryam is displaying positive signs of recovery. Although it's still early to predict the full extent of her recovery, the initial indicators are promising. Ultrasound and MRI of brain are normal," said Dr Singh.
Liz and her husband Jason Mateo Moreno Gutierrez are getting ready to return to their home country of Colombia in two weeks along with baby Maryam.