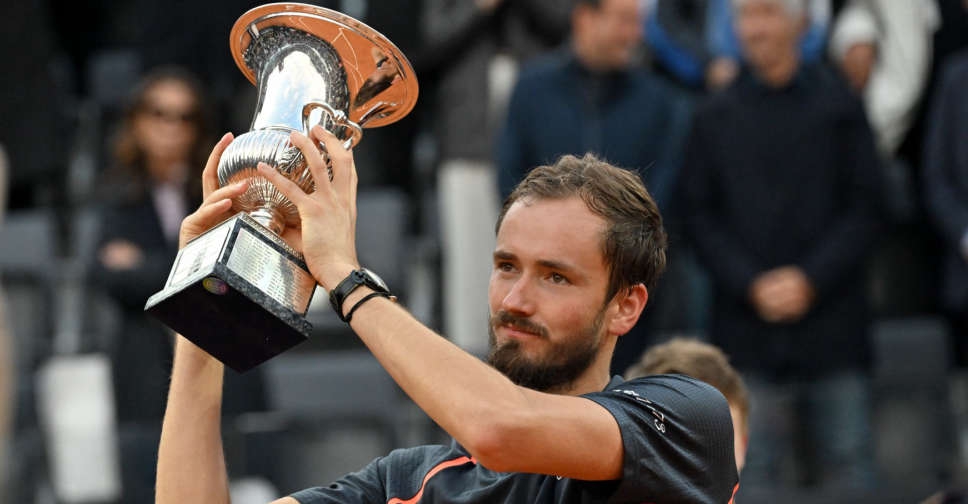 AFP
Daniil Medvedev rose to number two in the world rankings ahead of the French Open by capturing the Rome title on Sunday and the Russian said his unexpected win on clay counts as one of his most special triumphs.
Heading into Rome, Medvedev had won 18 of his 19 titles - including the 2021 US Open - on hardcourts, with his Mallorca Open victory on grass the same year the only exception.
The 27-year-old, who previously made no secret of his dislike for clay, was a player transformed at the Italian Open and ended the tournament with a 7-5 7-5 win over rising Dane Holger Rune.
Asked where his victory ranked among his many successes, Medvedev told reporters: "In a way, number one, just because it's the first one on clay and it's unbelievable.
"I'd never have thought I'd be able to make this. I have to be honest, a Grand Slam is always bigger. The US Open is always number one there.
"This one is special because I didn't think it was going to happen. I still don't believe - not that I won it, but I played so well this week."
Medvedev said using new strings this year had helped his clay game as they were softer and aided his deep groundstrokes.
But there were some concerns at the beginning of the year when they did not work as well on the hardcourts in Australia.
"I was 100 per cent doubting myself," Medvedev said.
"Should I go back to the old ones, I was playing good with it? I said 'no, let's try more'. Now it's unbelievable."