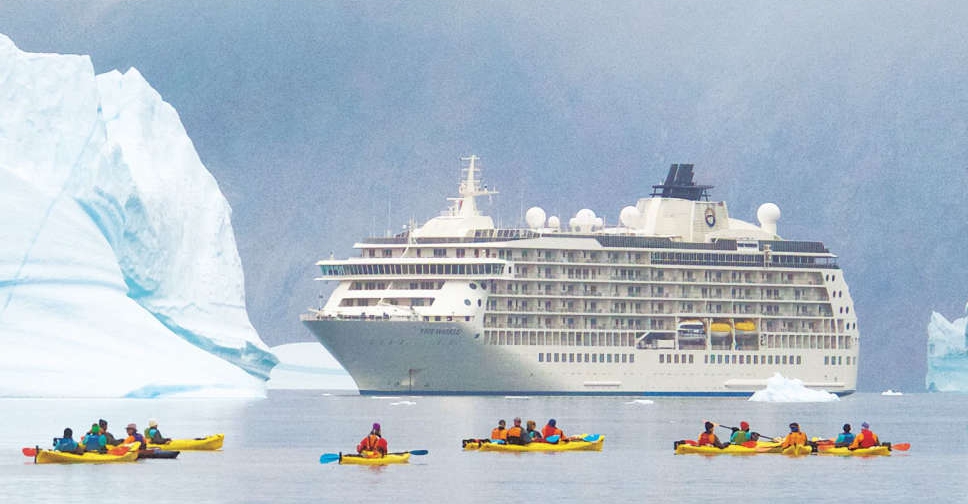 The world's largest privately-owned residential yacht docked in Dubai recently and gave ARN News a sneak peek at luxury living at sea.
Called 'The World', the mega-yacht has 165 apartments onboard which are a mixture of studio apartments, along with two and three-bedroom suites. Prices range from $2 million to $15 million (AED 7.4 million to AED 55 million) and all come with a sea view.
Owning a residence on 'The World' is a bit different to owning a luxury apartment on land. On top of the initial investment, there is an annual service charge to cover crew salaries, ship maintenance and food and drinks. It takes a lot of money to continuously circumnavigate the globe.
During a tour, we got to see not only the luxurious apartments but the wide range of facilities that owners get to enjoy.
These include a swimming pool that converts into a dance stage, a smoking room, cinema and an impressively-stocked library. And the world's only full-sized tennis court on a ship.
While 'The World' might look like a leisurely cruise liner designed for those in their twilight years, you would be mistaken. "It is far from a retirement ship," says its residential director Andy Dinsdale as he escorted us around the vast vessel.
Along with an enviable list of sports facilities that also include a running track and mini golf course, 'The World' takes part in a number of expeditions every year to keep residents on their toes.
Indeed, adventure is never far away with a packed itinerary of more than 108 ports of call as it sails across every ocean to all six continents.
Continuously circumnavigating the globe allows residents to conveniently stop off in one city and then embark again in another.
Docked in Dubai's Port Rashid, plenty of residents boarded 'The World' ready for the short trip down to Abu Dhabi and then back to Dubai for New Year's Eve.
Among its epic expeditions for the new year will be trips to the most northerly and southerly points on the globe, the Arctic and Antarctica.
After leaving Dubai, the mega-yacht set off eastwards towards India and Sri Lanka, and to explore the marine life of the Maldives.
On previous expeditions, residents have had narrow escapes with an underground volcano, giant iceberg and a polar bear trying to come aboard.
Each expedition is decided by a committee made up of residents and then carefully planned out.
In fact, apartment owners sit on a number of committees that decide everything from what route the ship will take each year to what food the onboard supermarket should stock. While a large number of the residents are Americans there is an international flavour to 'The World'.
The mega-yacht proudly boasts a few global accolades and recently won the title of best wine selection in the world at sea, and is home to four internationally-acclaimed restaurants.
For a ship that sells itself as a "one-of-a-kind ultra-luxury travel lifestyle of global exploration" it delivers on all counts.