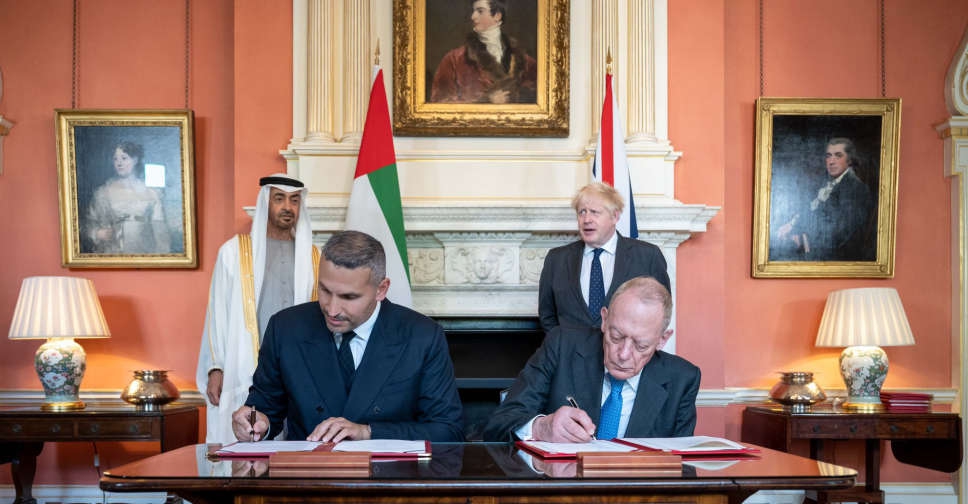 @MohamedBinZayed/ Twitter
The UAE and the UK have signed an agreement to significantly expand the UAE-UK Sovereign Investment Partnership (UAE-UK SIP), which was announced in March 2021.
Over the next five years, the UAE-UK SIP will drive a significant increase in investment across a further three sectors: technology, infrastructure, and energy transition, as well as build on the existing programme of life sciences investment.
As part of the latest agreement, the UAE has committed £10 billion via the UAE-UK SIP, overseen by Abu Dhabi's Mubadala Investment Company and the UK Office for Investment (OfI).
The announcement came on the sidelines of His Highness Sheikh Mohamed bin Zayed al Nahyan, Crown Prince of Abu Dhabi and Deputy Supreme Commander of the UAE Armed Forces' official visit to the UK.
Sheikh Mohamed and British Prime Minister Boris Johnson reviewed opportunities in the investment, economic and trade fields and other vital sectors.
They also agreed to establish the "Partnership for the Future", aimed at driving sustainable prosperity and addressing global issues.
The partnership will be used as a launchpad to develop new mechanisms that enhance trade, investment, innovation and enhance cooperation in areas, including life sciences, innovation, energy, regional issues, countering illicit financial flows, education, security, development, culture, climate, health and food security.
I was pleased to meet with Prime Minister Boris Johnson for in-depth talks in London today. Together, we discussed ways of further strengthening the robust & longstanding strategic ties between the UAE & the UK, & other areas of mutual interest in the region & around the world. pic.twitter.com/SiBMddMKwz

— محمد بن زايد (@MohamedBinZayed) September 16, 2021