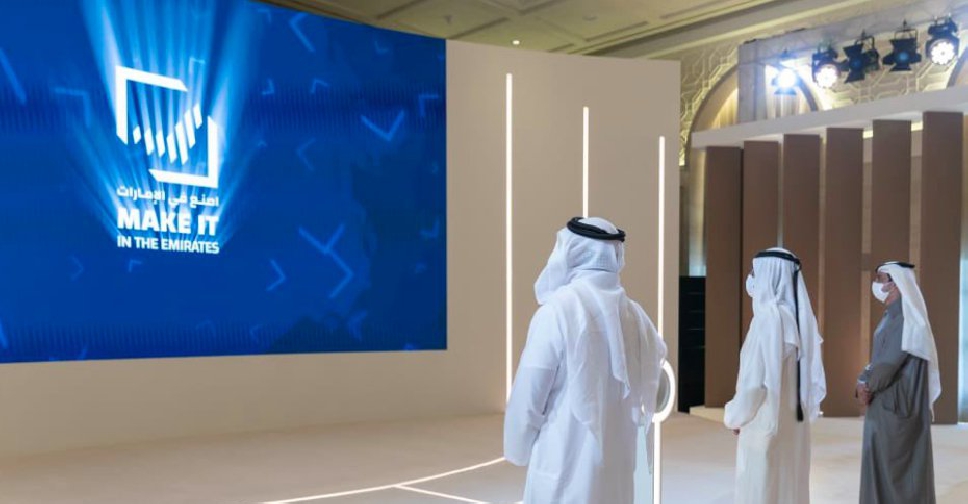 Dubai Media Office
UAE leaders on Monday launched a national industrial strategy aimed at raising the manufacturing sector's contribution from AED 133 to AED 300 billion over the next 10 years.
Titled Operation 300bn, the strategy will be led by the UAE Ministry of Industry and Advanced Technology.
"Our goal from the strategy is to support the establishment of 13,500 industrial companies in the coming years," His Highness Sheikh Mohammed bin Rashid Al Maktoum, Vice President and Prime Minister of the UAE and the Ruler of Dubai, said on Twitter.
He also launched the 'Make It In The Emirates' campaign, which reflects the UAE's industrial identity to support domestic products and promote the sector globally.
"The strategy also includes increasing spending on research and development in the industrial sector from AED 21 billion to AED 57 billion in the coming years," Sheikh Mohammed added.
His Highness Sheikh Mohamed bin Zayed Al Nahyan, Crown Prince of Abu Dhabi and Deputy Supreme Commander of the UAE Armed Forces, added that the "UAE's Industrial Strategy brings together the private and public sectors to re-imagine the future of industries.
"It is a determination to build our nation's knowledge and expertise and forge our path towards long-term sustainable growth that benefits people and the planet," he added.
كما أطلقنا اليوم أيضاً الهوية الصناعية لدولة الإمارات المستمدة من هويتها الاعلامية .. وذلك بهدف دعم منتجاتنا الوطنية.. وتعزيز تسويقها عالميا .. وترسيخ تنافسيتها صناعياً .. pic.twitter.com/A8Farttdp2

— HH Sheikh Mohammed (@HHShkMohd) March 22, 2021
The UAE's Industrial Strategy brings together the private and public sectors to re-imagine the future of industries. It is a determination to build our nation's knowledge and expertise and forge our path towards long-term sustainable growth that benefits people and planet pic.twitter.com/O5BtBM3Cn1

— محمد بن زايد (@MohamedBinZayed) March 22, 2021
.@HHShkMohd launches 'Operation 300bn', a national industrial strategy aimed at raising the manufacturing sector's contribution from AED 133 to AED 300 billion over the next 10 years. The strategy will be led by the #UAE Ministry of Industry and Advanced Technology. pic.twitter.com/Hz00jtTBpb

— Dubai Media Office (@DXBMediaOffice) March 22, 2021