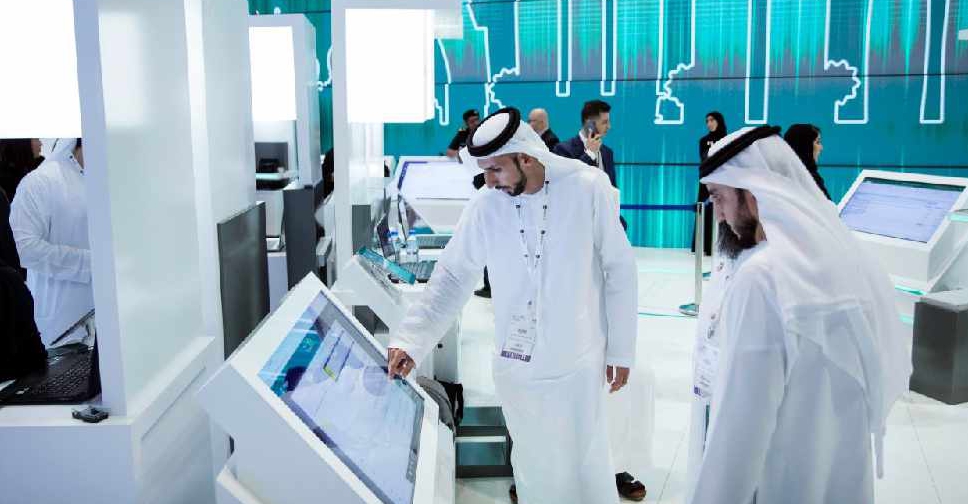 WAM
GITEX Technology Week, the sector's largest fair in the Middle East, North Africa and South Asia, is getting underway on Sunday at the Dubai World Trade Centre.
Innovations to help battle the COVID-19 pandemic will be on display.
They include the Abu Dhabi government pavilion's "Smart Emergency and Control Room".
It focuses on the remote inspection of commercial facilities, stores and shoppers in the Emirate to ensure their compliance with precautionary measures against the virus.
Rashed Abdul Karim Al Balooshi, Under-Secretary of the Abu Dhabi Department of Economic Development said, "We are keen to present the department's digital services and initiatives and how these add value to investors, businessmen, and representatives of major national, foreign and international companies visiting the event."
Dubai Internet City and its business partners will showcase the way technology has supported the region during the pandemic. Their stand will feature a series of immersive experiences with Anghami, Zoom, HTC Vive, students from the Dubai Institute of Design and Innovation, and a selection of start-ups from in5, an enabling platform for tech, media and design entrepreneurs.
Ammar Al Malik, Managing Director of Dubai Internet City, said, "We are excited to take visitors on a journey that blends the achievements of our business partners and start-ups during the COVID-19 pandemic. As the industry gets moving again and technological transformation accelerates exponentially, Dubai Internet City is committed to helping businesses contribute to the UAE's vision for a sustainable knowledge-based economy."
A new application project in the battle to combat COVID-19 will also be on show. It's called the "Reaya App" and aims to provide the necessary follow-up help for confirmed and suspected coronavirus cases through remote communication between the doctor and patient during isolation periods. The project is one of many digital and sustainable innovations at the Ministry of Health and Prevention's pavilion.
In addition, MoHAP will display new ways to automate patient data between the National Ambulance Service and the ministry's hospitals to activate an early warning system. Plus it will highlight a "Telemedicine Project" which is designed to ensure the safety of community members, limit health hazards, and cut down on commutes between hospitals and outpatient clinics.
GITEX is the only global tech show in 2020 to be live and in-person, bringing together over 1,000 exhibitors, tech enterprises, start-ups, and government entities from 60 countries.
More than 200 investors will also be in attendance, while 350 speakers will deliver 280 hours of content live on stage.
COVID-19 precautionary measures are in place, with admission permitted only by advance online registration.
Badges must be printed and available prior to arrival at the site. Badges are non-transferable and all holders are required to show valid identification. Violators will be fined a penalty of AED 3,000 and entry will be denied.
Mask wearing is mandatory and contactless temperature screening has been installed at designated entry points.
A PCR testing clinic managed by the Dubai Health Authority is available onsite along with isolation rooms for suspected COVID-19 cases.
Real-time monitoring of crowd density and venue capacity is in place.
All conference chairs are protected with an antimicrobial shield and are sanitised regularly. The chairs are positioned two metres apart. Air change rate in the halls is eight times per hour. Air extraction in the halls is pre-scheduled and all hall shutter doors will be kept open both before and after the event to assist with circulation.
Exhibition halls will close at 10:00 pm for daily sterilisation and sanitisation.
The #AbuDhabiGovernment Pavilion during #GITEX2020 week will be showcasing a wide range of pioneering initiatives in Government Services, Government Solutions, Data and Artificial Intelligence, and Ecosystem Enablement. pic.twitter.com/Zb6zlPN3V6

— مكتب أبوظبي الإعلامي (@admediaoffice) December 5, 2020