Supplied
Etihad Airways operated its most sustainable flight ever between London Heathrow and Abu Dhabi, with carbon emissions reduced by 39,000 kg and fuel burn by 1,800 kg.
From an optimised flight route to new technology flight deck tools, to sustainable aviation fuel (SAF), the EY20 flight on October 23 aimed to set a benchmark in the aviation industry.
It reduced carbon emissions by 72 per cent in absolute terms compared to the equivalent flight operated in 2019, the airline added.
The EY20, which was the first commercial flight to explore contrail-avoidance, was able to avoid the production of approximately 64 tonnes of CO2e, with a fuel penalty of only 100kg, or 0.48 tonnes CO2, by tweaking its flight path.
"These are noteworthy savings," said Mohammad Al Bulooki, Chief Operating Officer, Etihad Aviation Group.
Tony Douglas, Group Chief Executive Officer, Etihad Aviation Group, also paid tribute to industry partners who teamed up to make it happen. "This is only possible when we all work together, and we all commit to making whatever savings we can. Each of these partners played their own, significant role in the step we took today."
The contributions, the airline highlighted, covered three phases - planning, in-flight and post-flight.
Passengers also did their bit, with those with reduced luggage rewarded. Their in-flight meals were served on sustainable crockery, with plant-based water bottles and limited-edition tote bags from upcycled aircraft materials as added treats.
That's not all. Electric vehicles were used for baggage unloading, and bio-diesel was used to fuel the airline's passenger coach service between Abu Dhabi and Dubai. This meant all passengers were completely carbon neutral for the entirety of their journey.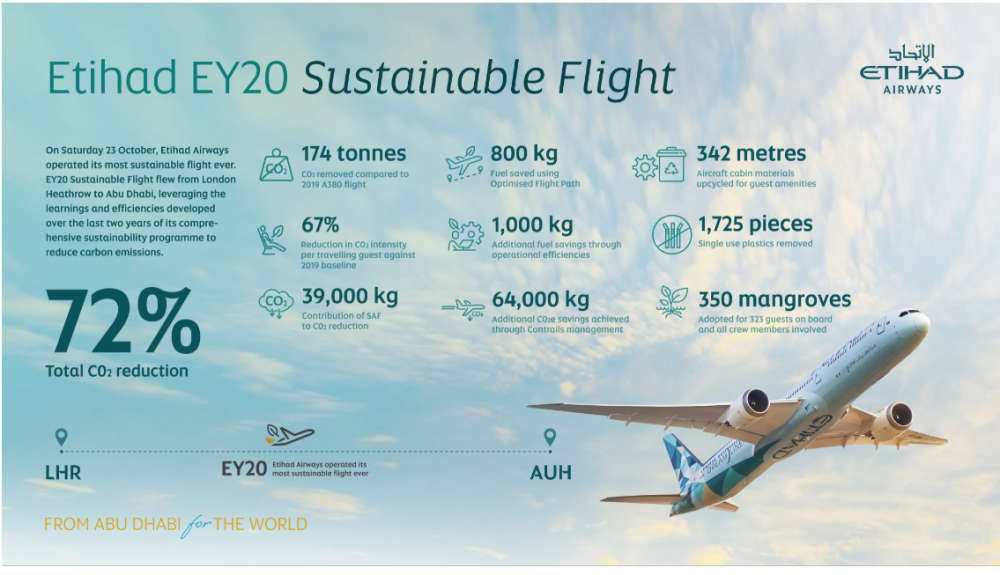 "EY 20 Sustainable Flight brought together a long list of small changes that had been developed over the past two years under the Greenliner Programme, which was designed to identify opportunities that are available today to reduce emissions, rather than waiting for future technologies," added Bulooki.
"Our single greatest learning from the past two years has been that even when solutions are available, they are not easily deployed on a regular basis due to constraints throughout the entire aviation eco-system.
"What was demonstrated on EY20 was the art of the possible; the next step is to work on how these can be deployed sustainably."
Douglas added that the "entire emissions reduction achieved on this flight was through the operational steps and efficiencies employed and did not rely on off-sets".
He added that this is why "each guest on board this Etihad flight will have a tree adopted for them in Abu Dhabi's Jubail Island Mangroves plantations... This is an important initiative for greening the UAE".