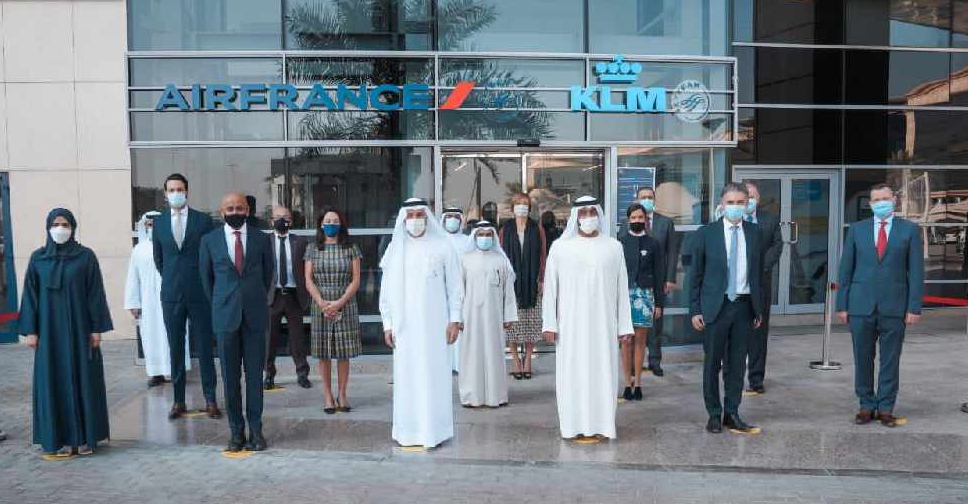 @DXBMediaOffice/ Twitter
Air France KLM Group has formally inaugurated its new regional headquarters at Dubai Airport Freezone (DAFZA).
Their entire regional team is now based at the new offices, including General Management, HR, Finance, Commercial, UAE Country Management and Regional Sales Support.
In addition, Air France Industries management team have also relocated from the former offices at the Al Shoala Complex in Deira.
The ceremony was held under the patronage and in the presence of His Highness Sheikh Ahmed bin Saeed Al Maktoum, Chairman of Dubai Airport Freezone Authority (DAFZA), President of Dubai Civil Aviation Authority; Dr. Mohammad Al Zarooni, Director General of DAFZA; Henri de Peyrelongue, Executive Vice President Commercial Sales Air France-KLM; and Welmer Blom Senior Vice President, Middle East, Gulf and India Air France KLM.
His Highness Sheikh Ahmed bin Saeed Al Maktoum said: "The inauguration of the group's new headquarters at the heart of the world's leading aviation sector is an affirmation of Dubai's strategic position. It highlights Dubai's ability to continue its growth and overcome challenges by attracting global players in the sector."
"This announcement comes as part of the efforts and incentive packages provided by the emirate to tackle the COVID-19 pandemic through a highly flexible approach. This strategy has helped ensure business continuity and growth and accelerate recovery to the next stage, especially within the aviation sector, which has been affected by the global restrictions and measures that were applied at the beginning of the pandemic," Sheikh Ahmed added.
.@HHAhmedBinSaeed:The opening of the group's new headquarters at the heart of the world's leading aviation sector is an affirmation of Dubai's strategic position. It highlights Dubai's ability to continue its growth & overcome challenges by attracting global players in the sector pic.twitter.com/qRvo8IaDNS

— Dubai Media Office (@DXBMediaOffice) November 7, 2020