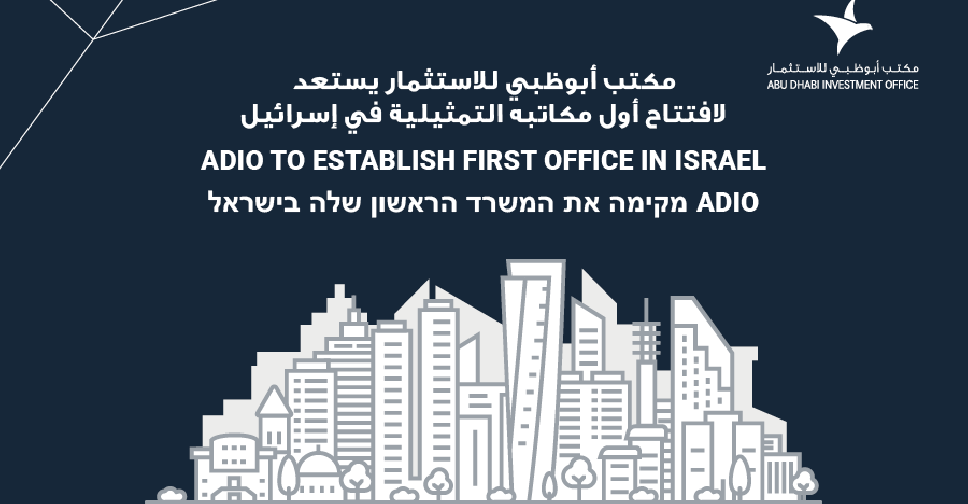 ADIO
The government hub, which supports private sector investment in the Emirate, says the initial foreign outpost will be based in Tel Aviv.
In a statement, the ADIO said the office will focus on facilitating "connections between innovation-focused companies and organisations in Abu Dhabi and Israel".
More openings are planned for Europe, North America and Asia.
The move follows the UAE's expansion of diplomatic and commercial cooperation with Israel under the new accord between the two nations.
ADIO is currently in discussions with Invest in Israel at the Ministry of Economy and Industry, as well as a number of other Israeli entities to explore investment opportunities for companies with a focus on innovation and technology.
Amir Peretz, the Israeli Minister of Economy and Industry, said his ministry, "is delighted to support the opening of ADIO's office in Israel, and is sure that this move will contribute to the strengthening of the economic dialogue between Israel and Abu Dhabi to promote collaboration between the nations."
Areas identified for possible close collaboration include advanced technology and R&D, AgTech, biomedicine and advanced manufacturing.
ADIO's Director-General Dr Tariq Bin Hendi said, "Cooperation between Abu Dhabi and Israel in areas like AgTech, for instance, will create innovations that are exportable and relevant to countries with similar climate conditions."
ADIO's Tel Aviv office is expected to be operational in the coming months.
In line with discussions between @InvestAbuDhabi and @investinisrael, ADIO is to open its first investment office outside the UAE in Tel Aviv, as part of efforts to unlock investment and partnership opportunities between #AbuDhabi and Israel. pic.twitter.com/2JWavYV4kU

— مكتب أبوظبي الإعلامي (@admediaoffice) September 16, 2020