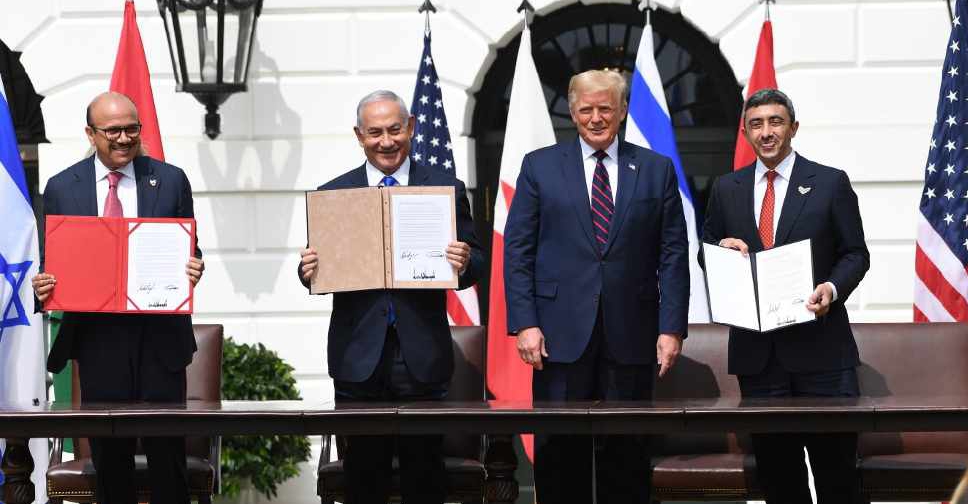 SAUL LOEB / AFP
The historic agreement between the UAE and Israel has been formally signed at a ceremony in Washington.
His Highness Sheikh Abdullah bin Zayed Al Nahyan, UAE Minister of Foreign Affairs and International Cooperation officially sealed the deal with the Israeli Prime Minister Benjamin Netanyahu at the White House.
Bahrain's Foreign Minister Abdullatif Al Zayani also signed his country's accord with Israel.
The agreements make them the third and fourth Arab countries to normalise ties with Israel in over a quarter of a century.
The event at the White House was hosted by U.S. President Donald Trump.
The signing ceremony comes a month after the UAE and Israel agreed to normalise relations in return for the suspension of the annexation of Palestinian territories.
In his opening address at the ceremony, Trump congratulated the people of the UAE, Bahrain and Israel.
He praised the three countries for opting for friendship and cooperation, saying it heralds a new dawn for the Middle East region.
Israel, Bahrain, and the United Arab Emirates are choosing cooperation over conflict.

Friendship over enmity.

Prosperity over poverty.

Hope over despair. pic.twitter.com/dXRPS3bT0Y

— The White House 45 Archived (@WhiteHouse45) September 15, 2020
His Highness Sheikh Abdullah thanked all those who strived to realise this accord and said it will carve a new path for the Middle East, the reverberations of which will reflect on the entire region.
He added that the agreement takes into account the aspirations of the younger generation and it aims to "reinforce stability and sustainable development for the entire region."
Sheikh Abdullah reiterated that the UAE will continue to stand by Palestinian people and help realise their hopes for an independent state.
"We are witnessing today a new trend that will create a better path for the Middle East." Read UAE Foreign Minister HH Sheikh Abdullah bin Zayed's full remarks as prepared from today's #UAEIsrael #PeaceAccord signing.https://t.co/UV41vzPEUr

— وزارة الخارجية والتعاون الدولي (@MoFAICUAE) September 15, 2020