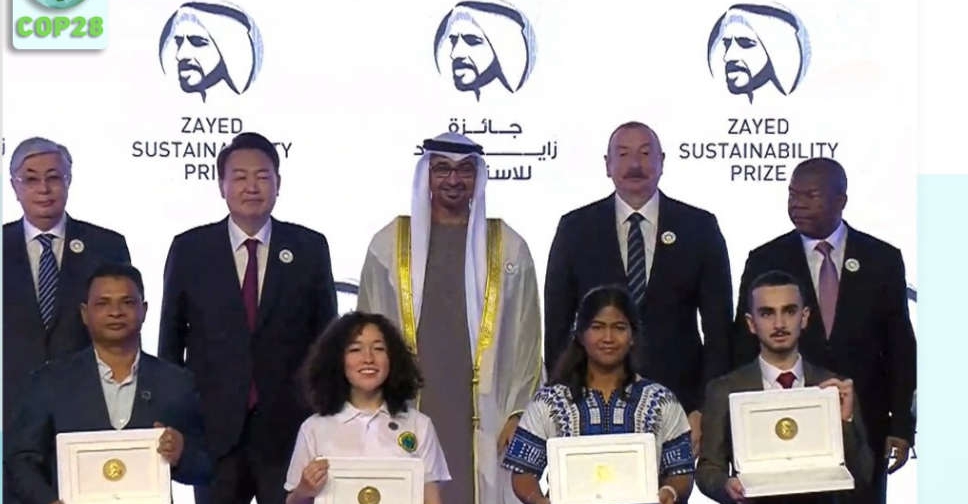 Twitter
Ten winners of the 2023 Zayed Sustainability Prize were honoured by UAE President His Highness Sheikh Mohamed bin Zayed Al Nahyan during a special ceremony at the Abu Dhabi Sustainability Week (ADSW).
The UAE's pioneering global award rewards small and medium-sized enterprises, nonprofit organisations and high schools around the world that are delivering impactful, innovative and inspiring solutions in health, food, energy and water.
Congratulating the winners, Sheikh Mohamed said the $3 million prize "creates a pathway for delivering life-changing humanitarian aid and solutions to communities around the world".
Since its launch in 2008, the 96 winners have been recognised with the prize transforming the lives of more than 378 million people around the world.
"Over the last 15 years, the Zayed Sustainability Prize has successfully built upon the legacy of the UAE's Founding Father, Sheikh Zayed, and carried forward his bold humanitarian vision, ensuring that the resources of our great nation are fully used to the benefit of all people," highlighted Sheikh Mohamed.
Each winner receives $600,000, while the Global High Schools category has six winners, representing six world regions, with each winner receiving up to $100,000.
Here are the winners:
In the Health category, Brazil's Associação Expedicionários da Saúde (EDS) was awarded the Prize for its Mobile Hospital Complex, which provides specialised medical and surgical care for indigenous communities geographically isolated within the Amazon. Over the course of six expeditions from 2015 to 2022, the nonprofit organisation performed more than 1,900 surgeries that improved health outcomes, including improved vision after cataract surgery.
In the Food category, Ÿnsect from France won for its important work in insect-based protein and natural fertilisers. The SME produces insect protein and natural insect fertilisers at Europe's first-of-its-kind insect factory equipped with innovative vertical farming and integrated biorefining setup. Over the last five years, Ÿnsect has improved the lives of 30 million people by delivering sustainable, natural, premium nutrition products for fish farming and human nutrition.
In the Energy category, the Jordan-based NeuroTech developed Al-based algorithms with a blockchain-based transaction system to bring reliable energy access to refugee camps. The SME employs the concept of energy sharing by separating electrical loads into low- and high-priority streams. Thus, beneficiaries are guaranteed to receive their lifesaving energy, and extra energy goes to low-priority feeders, according to energy availability. Sophisticated energy management and control reduces electricity stress and increases consumer awareness about electricity.
In the Water category, LEDARS (Local Environment Development and Agricultural Research Society), an NPO from Bangladesh, was recognised for its integrated water resource management model that solves water scarcity issues in disaster-prone areas. Their combination of technologies help transforms communities in Bangladesh, so people can have access to safe drinking water and climate smart livelihoods.
The recipients of the 2023 Global High School awards are Fundacion Bios Terrae - ICAM Ubate (Colombia), representing The Americas; Romain-Rolland-Gymnasium (Germany), representing Europe & Central Asia; Gifted Students School (Iraq), representing the Middle East & North Africa region; UWC East Africa - Arusha Campus (Tanzania), representing Sub-Saharan Africa; Dhaka Residential Model College (Bangladesh), representing South Asia, and finally, Kamil Muslim College (Fiji) from the East Asia & Pacific region.
"Our 106 winners are driving action to solve the world's most pressing challenges. Through their commitment to championing positive action, millions of people who were living without access to energy, water, healthcare, or food in the developing world, now have sustainable economic and social development opportunities, including access to quality education, decent work, economic growth and improved livelihoods," said Dr. Sultan Ahmed Al Jaber, UAE Minister of Industry and Advanced Technology and Director General of the Zayed Sustainability Prize.