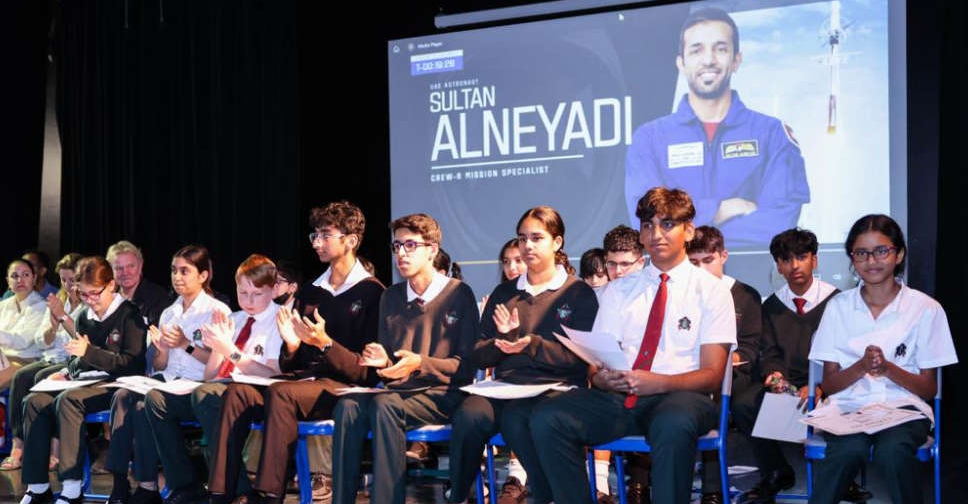 Supplied
After completing less than a week in space, Emirati astronaut Sultan Al Neyadi took time off his International Space Station duties to connect with a large gathering of students from Jumeirah College in Dubai.
During a 10-minute ham live radio call, Al Neyadi, who is currently orbiting earth onboard the ISS, told students that entering space was like a wonderful rollercoaster experience.
Answering a host of questions by students, he spoke about why he choose to be an astronaut, how he prepared for the mission and what work he will be carrying out at the ISS.
Al Neyadi talks about how "everything floats in space" and how he overcomes homesickness.
He is scheduled for 13 live calls and 10 ham radio interactions.
The Mission
During his six-month mission, the Emirati astronaut will partner with various space agencies, including NASA, the European Space Agency (ESA), the Canadian Space Agency (CSA), Japan Aerospace Exploration Agency (JAXA), and the National Centre for Space Studies (CNES).
He also has 19 scientific studies lined up to work on, covering topics such as cardiovascular and immune system health, back pain, sleep analysis, and radiation.
Al Neyadi is the second Emirati to travel into space after Hazza Al Mansouri and the first Arab to undertake a long-duration space mission.