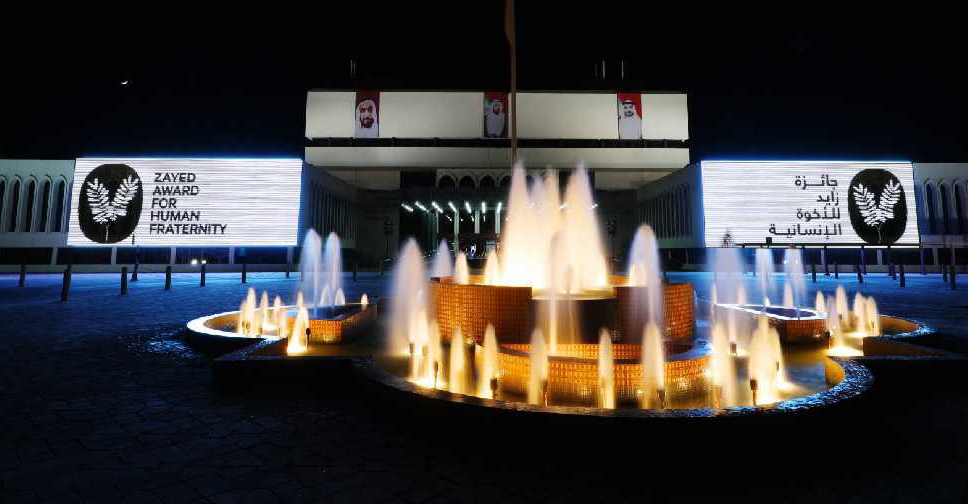 @admediaoffice/ Twitter
Global participants are being invited to take part in the Zayed Award for Human Fraternity to honour people or entities for creating breakthroughs and driving positive change.
The prize, worth $1 million, embodies the legacy of Sheikh Zayed bin Sultan al Nahyan, the late Ruler of Abu Dhabi and founder of the UAE, whose values of humility, humanitarianism and respect epitomise the enduring ideals it seeks to celebrate.
This is the first time the award has been opened to nominations.
Recommendations can be made by members of government, former heads of state, Supreme Court judges, UN leaders, leading academic and cultural figures, Higher Committee of Human Fraternity (HCHF) members and international NGO heads.
The HCHF has launched the campaign and will appoint an independent committee of experts to decide on the recipient.
The nomination process will close on December 1 and the winner or winners will be announced on February 4.
The honour, created in 2019, was given to Pope Francis and Grand Imam of Al-Azhar His Eminence Dr Ahmad al Tayeb.
The two leaders were presented with the award following their historic signing in Abu Dhabi of the Document on Human Fraternity, which calls for all people to put aside their differences in the pursuit of progress through understanding, reconciliation and peace.
Judge Mohamed Abdulsalam, Secretary-General of the HCHF said, "We are honoured to be the custodian of this initiative, which is testament to the commitment of the Higher Committee of Human Fraternity to strengthen human relations, build bridges of dialogue and enhance understanding and co-operation between nations."
لكل منا القدرة على تغيير واقعنا المشترك، بالتواصل والتفاهم وبناء جسور الثقة الصامدة على مر الزمان. تحتفي #جائزة_زايد_للأخوة_الإنسانية بالرجال والنساء حول العالم ممن يكسرون الحواجز ويتجاوزون التوقعات لتحقيق المستحيل، بروح التراحم والتسامح والعيش المشترك. لنصنع معًا غدنا الأفضل. pic.twitter.com/BMycVVeFSl

— Zayed Award for Human Fraternity (@ZayedAward) October 19, 2020