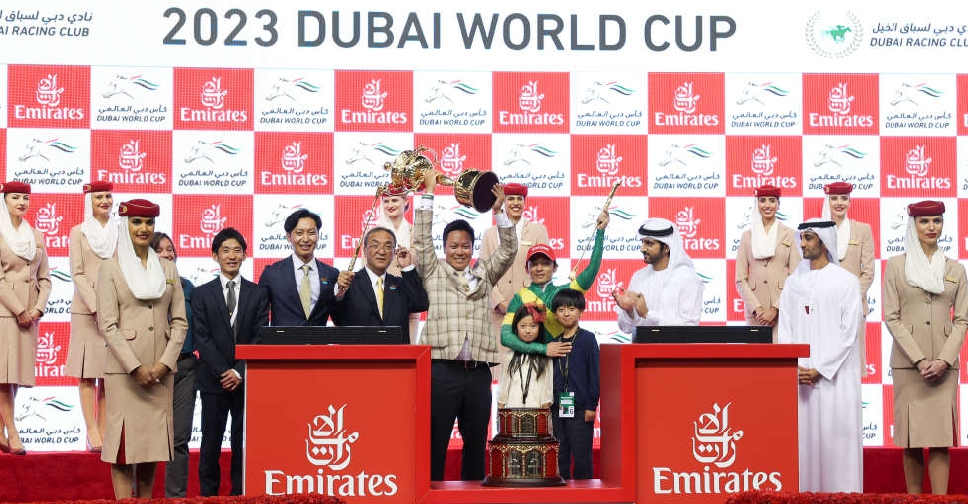 Photo by ARN Digital
Ushba Tesoro won the Dubai World Cup 2023 held at the Meydan Racecourse.
Jockey Yuga Kawada raced the Japanese-owned horse to victory in the final race of Saturday night, winning the main race sponsored by Emirates Airlines, with a prize of US$ 12 million (AED 44.07 million).

Ushba Tesoro produced a remarkable run, coming from the back of the field, to take the Dubai World Cup for Japan.

It's only the second time in its history that a Japanese horse has won the highlight race of the event.
Ushba Tesoro wins the $12 million #DubaiWorldCup for Japan. #DWC2023 @RacingDubai pic.twitter.com/6DnjRpVoD4

— Dubai Media Office (@DXBMediaOffice) March 25, 2023

A total of 15 of the best horses in the world, from seven countries, competed in the first-class race on sandy ground over a distance of 2000 meters.
Algiers finished second and Emblem Road finished third.
In all, the the 27th edition of the Dubai World Cup brought together 129 horses from 13 countries.

A total of 78 international and 51 Emirati horses including those from the fabled Godolphin stable, contested for the total prize pot of AED 112 million (US$30.5 million).
Hayyan wins the first round "Dubai Kahayla Classic" at #DubaiWorldCup 2023 sponsored by @emaardubai #DWC2023 | #Dubai pic.twitter.com/U1QUZZ3PJz

— Dubai Media Office (@DXBMediaOffice) March 25, 2023
Isolate wins the second round " Godolphin Mile" at #DubaiWorldCup 2023 sponsored by One Zaabeel#DWC2023 | #Dubai pic.twitter.com/DUJfKPLkL5

— Dubai Media Office (@DXBMediaOffice) March 25, 2023
Broome wins the 3rd round "Dubai Gold Cup" at #DubaiWorldCup 2023 sponsored by Al Tayer Motor#DWC2023 | #Dubai pic.twitter.com/J2J0EoVz8k

— Dubai Media Office (@DXBMediaOffice) March 25, 2023
Danyah wins the 4th round "Al Quoz Sprint" at #DubaiWorldCup 2023 sponsored by Azizi Group#DWC2023 | #Dubai pic.twitter.com/9XWalDd5Ag

— Dubai Media Office (@DXBMediaOffice) March 25, 2023
Derma Sotogake wins the 5th round "UAE Derby" at #DubaiWorldCup 2023 sponsored by @RoyalAtlantis #DWC2023 | #Dubai pic.twitter.com/uiJNS4Yllk

— Dubai Media Office (@DXBMediaOffice) March 25, 2023
Sibelius wins the 6th round "Dubai Golden Shaheen" at #DubaiWorldCup 2023 sponsored by Nakheel#DWC2023 | #Dubai pic.twitter.com/DurOX0jxIO

— Dubai Media Office (@DXBMediaOffice) March 25, 2023
Lord North wins the 7th round "Dubai Turf" at #DubaiWorldCup 2023 sponsored by @DP_World #DWC2023 | #Dubai pic.twitter.com/3K2v1YZF9a

— Dubai Media Office (@DXBMediaOffice) March 25, 2023
Equinox wins the Longines Dubai Sheema Classic. #DubaiWorldCup #DWC2023 pic.twitter.com/Xi2RCTY6G2

— Dubai Media Office (@DXBMediaOffice) March 25, 2023