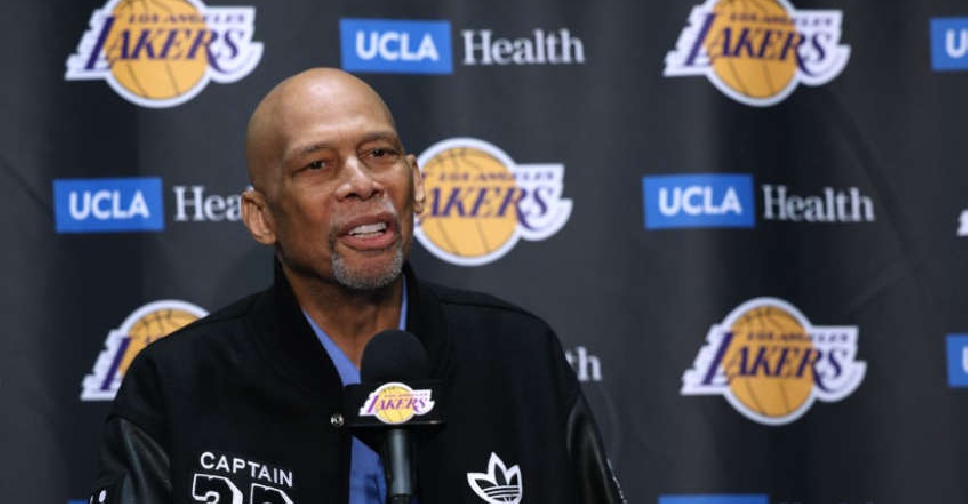 AFP
Former LA Lakers star Kareem Abdul-Jabbar is one of a number of former NBA players heading to the UAE capital as part of October's NBA Abu Dhabi Games.
The NBA fan appreciation day takes place ahead of the second preseason game taking place at the Etihad Arena between Dallas Mavericks and Minnesota Timberwolves.
The two events will feature appearances by NBA legends Kareem Abdul-Jabbar, Tim Hardaway Sr., Gary Payton and Kenny Smith, as part of an expanded series of fan activations surrounding the NBA Abu Dhabi Games 2023.
Fans can see Dallas Mavericks and Minnesota Timberwolves play two preseason games on October 5 and October 7 at Yas Island's Etihad Arena in Abu Dhabi. The first-ever NBA Fan Appreciation Day in Abu Dhabi will take place on Friday, October 6.
The ultimate fan experience will feature appearances by Mavericks and Timberwolves players and NBA legends including 19-time NBA All-Star and six-time NBA champion Kareem Abdul-Jabbar and two-time NBA champion Kenny Smith.
Activities will include a skills challenge and three-point contest featuring Mavericks and Timberwolves players, performances by Mavericks Entertainment Team, Timberwolves Dunk Team, and the team mascots, and a slam dunk contest featuring professional dunkers.
"NBA Fan Appreciation Day is a great opportunity to experience a live authentic NBA experience for fans of all ages," said Smith. "With all the in-game entertainment elements, as well as competitions and opportunities for fans to get involved and win prizes, it promises to be a fun-packed night of NBA fun and a great way to see your favourite players and of course former players."
NBA District, an interactive fan event that last year welcomed nearly 10,000 fans, will return to Manarat Al Saadiyat where fans will be able to meet five-time NBA All-Star Tim Hardaway Sr., and nine-time NBA All-Star and NBA champion Gary Payton, while participating in basketball activities on a full-size NBA court.
"Fans will not want to miss NBA District," said Payton. "This will be my first time in Abu Dhabi, and I am really looking forward to meeting fans and interacting with all of the fun NBA elements in what will be a 360 immersive experience."