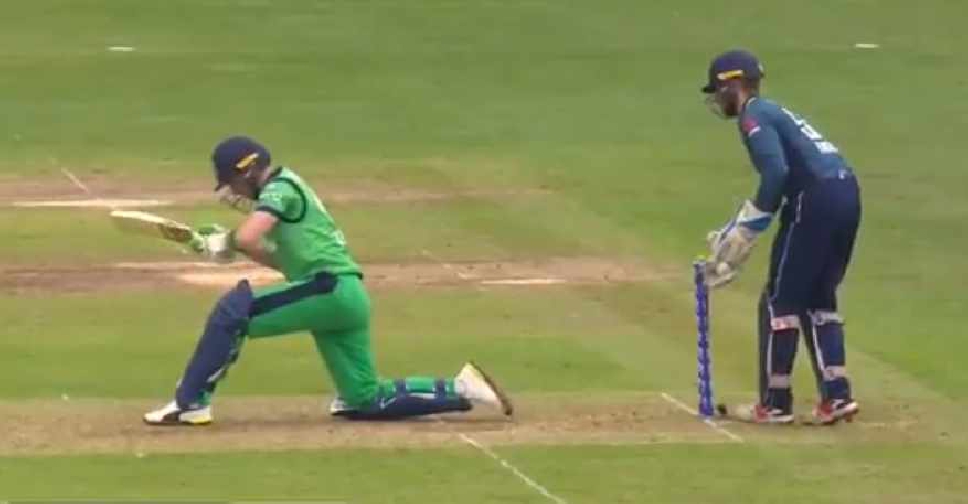 Twitter
England wicket keeper Ben Foakes has been been caught up in a bizarre controversy after his side's one day international win over Ireland in Dublin.
Foakes stumped Ireland batsman Andy Balbirnie, but the way it was done has been widely criticised and praised on social media.
The incident took place in the 25th over of Ireland's innings.
Foakes waited patiently for Balbirnie to over-balance after missing a sweep shot off Joe Denly and then whipped off the bails to complete a stumping.
Foakes showing with the bat and gloves what a smart cricketer he is pic.twitter.com/Cd03GalOVD

— Alex Chapman (@AlexChapmanNZ) May 3, 2019
Some fans claimed that it was against the spirit of the game and worse than "mankading".
"I can't believe what I'm seeing!! Terrible example to set for young kids coming through. In time, I think Foakes will regret that." #spotthedifference pic.twitter.com/zHHJCPqUpq

— Isabelle Westbury (@izzywestbury) May 3, 2019
Ben Foakes stumping was a disgrace - much bigger than Ashwin's actions. Here there was a willing actor waiting for batsman to lift his leg much after the actual transaction of the ball got over. Reminds me of Alec stewart's antics. Surprised with the pindrop silence from pundits

— Sheel Majumdar (@SheelMajumdar) May 3, 2019
Others have jumped to the cricketer's defence, saying it just showed how good he is behind the wicket.

That Ben Foakes stumping was a thing of beauty. #bbccricket

— ian (@iandobbers) May 3, 2019
How on earth are people comparing Ben Foakes stumping to mankadding? Here's a tip, dont lift your back foot when you have someone as good as Foakes behind the stumps @WK_Union #keepersunion

— Eiron Fitzgerald (@ciaraneironfitz) May 3, 2019