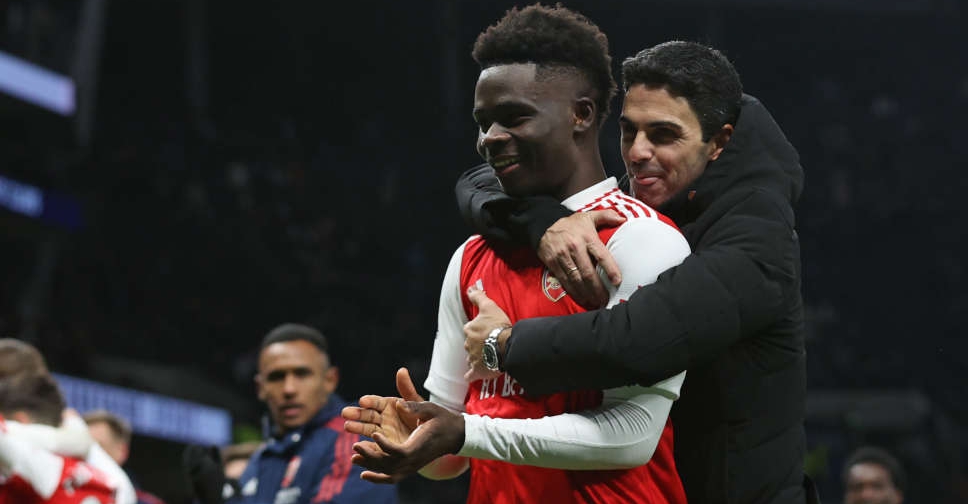 AFP
Arsenal coach Mikel Arteta hailed their derby victory over Tottenham Hotspur on Sunday and called on his team to celebrate every single moment of being eight points clear at the top of the Premier League.
An early own goal from Hugo Lloris and a fine Martin Odegaard strike helped Arsenal complete a first league double over Tottenham since 2013-14, with the Gunners winning away at Spurs for the first time in the league since March 2014.
The victory sparked wild scenes of celebration on the final whistle, as the rejuvenated Gunners took their points tally to 47 from 18 league games – the most points they have won at this stage of a season in their league history.
"I'm very happy for two reasons," Arteta said. "One because I saw a lot of determination, quality and that we really wanted today to come here and win the game.
"And the other one because we have a job where we are really privileged we can make a lot of people happy. Celebrating the victory with the fans was a great feeling and the suffering makes a lot of sense when you have moments like this.
"It's great and to go in the dressing room and just feeling the joy and the togetherness around the team and how much it meant for them is special."
Eight points is the biggest lead Arsenal have had at the top of the Premier League, when playing the same number of games as the side below, since the final day of the 2003-04 season, when they won the title by 11 points. They have not won the league since.
"We know that we are here because of the way we play, the way we behave, the way we are and the way we live together and we must not forget that because tomorrow we have to try to do exactly the same," he added.
"This (win) has a big emotional attachment because obviously there's a big history between the two clubs and it means so much for us to win the game. (Eight points clear) is a great position to be in and let's enjoy every single moment."