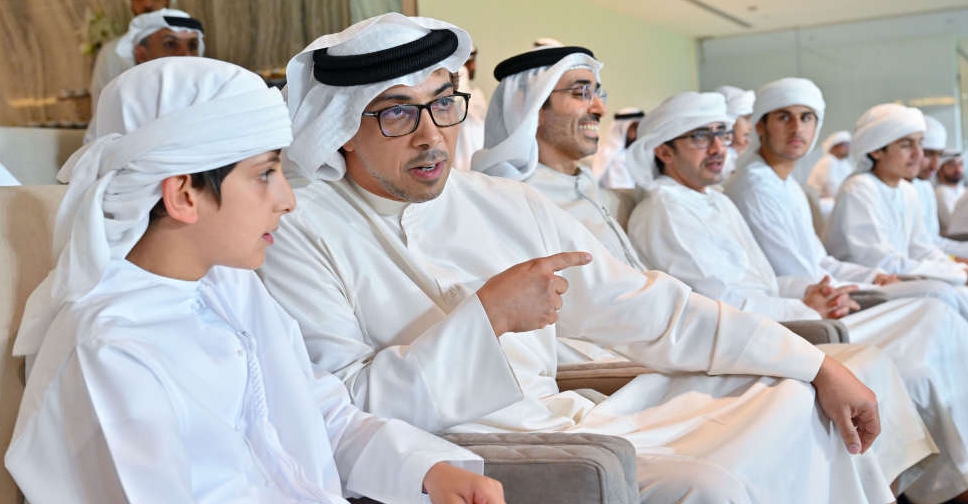 WAM
Friday's derby between Al Jazira and Al Wahda was attended by H.H. Sheikh Mansour bin Zayed Al Nahyan, Deputy Prime Minister, Minister of Presidential Affairs, Chairman of the Al Jazira Club, and Vice Chairman of the club's Honorary Board, as Al Wahda cruised to a 1-0 victory.
He was joined by H.H. Sheikh Theyab bin Zayed Al Nahyan, President of Al Wahda Sports and Cultural Club; and H.H. Sheikh Abdullah bin Zayed Al Nahyan, Minister of Foreign Affairs and International Cooperation, at Mohammad bin Zayed Stadium in match week 10 of the ADNOC Pro League.
Sheikh Mansour congratulated the two teams on their impressive performance, wishing the UAE Football Association continued success in organising the UAE Pro League and further advancing Emirati football.
The derby was also attended by Sheikh Mohamed bin Mansour bin Zayed Al Nahyan, Sheikh Hamdan bin Mansour bin Zayed Al Nahyan, and Abdullah Nasser Al Junaibi, Senior Vice President of the UAE Football Association, Chairman of the Board of Directors of the UAE Pro League, and several officials.
Joao Pedro's second-half goal was the difference for Al Wahda in a 1-0 away win over Al Jazira today. Nine minutes after the hour-mark, Joao Pedro broke the deadlock when he pounced on Salim Rashid's misplaced pass and cut inside the penalty area before chipping the ball over the goalkeeper.
The victory raised Al Wahda's tally to 22 points in the second spot, while Al Jazira's tally froze at 17 in the fifth spot.