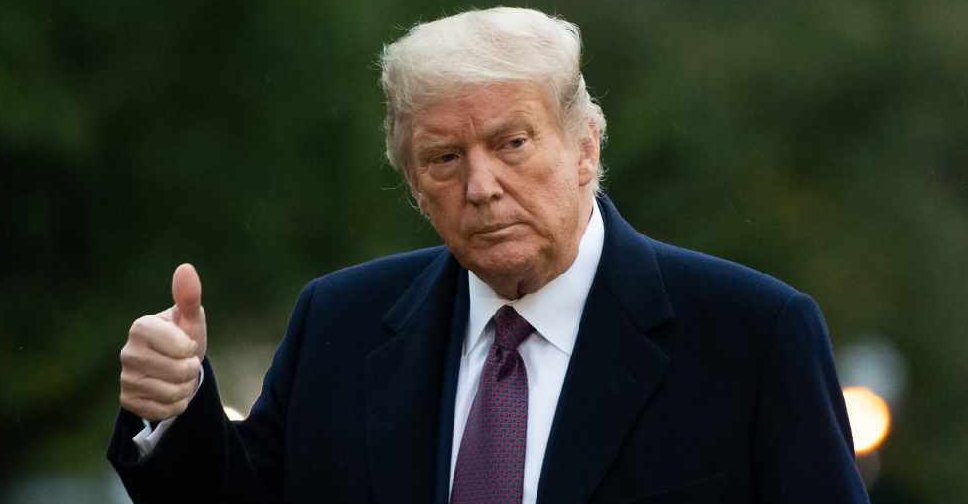 SAUL LOEB / AFP
The White House tried to reassure Americans that President Donald Trump was still working from isolation, after announcement that he had caught the coronavirus threw the administration and presidential race into uncertainty.
Trump, who has played down the threat of the coronavirus pandemic from the outset, said he and his wife Melania had tested positive for the deadly virus and were going into quarantine.
Wall Street tumbled at news of one of the biggest health scares involving an American president for decades, with the S&P 500 plunging more than 1.5 per cent at the opening
"The president is not incapacitated. He is actually working from the residence," a senior White House official said.
Vice President Mike Pence and his wife tested negative, a Pence spokesman said. The White House official said Pence would work from his own residence and his staff was being kept separated from Trump's staff "out of an abundance of caution".
But the official acknowledged that the president's illness would force him to cancel travel plans with just 31 days left to go until the presidential election. Polls show Trump trailing his Democratic opponent, former Vice President Joe Biden.
"We will begin our quarantine and recovery process immediately. We will get through this TOGETHER!" Trump said in a tweet early on Friday morning.
Biden said on Twitter that he and his wife Jill wished Trump and the first lady a speedy recovery. "We will continue to pray for the health and safety of the president and his family," he said.
Just hours before Trump's announcement, Trump had proclaimed the pandemic almost over, while Biden had tweeted accusing Trump of trying to distract from a "failed COVID-19 response" that led to the deaths of more than 200,000 Americans from the disease.
Trump advisers acknowledged that they would have to rip up their plans for the final weeks of the election campaign. Trump has held in-person rallies with supporters who mainly decline to wear masks, and has mocked Biden for avoiding such events.
"It's so early to kind of know what's going to happen but clearly it changes the dynamic from us being able to travel and show enormous energy and support from the rallies, which has been part of our calculation," a Trump adviser said.
Trump's positive test also means that others at the highest levels of the U.S. government have been exposed and may have to quarantine, too. A White House official said early on Friday that contact tracing was under way.
Trump's physician, Sean Conley, said he expected the president to carry out his duties "without disruption" while he recovers.
Leaders around the world wished Trump a speedy recovery.