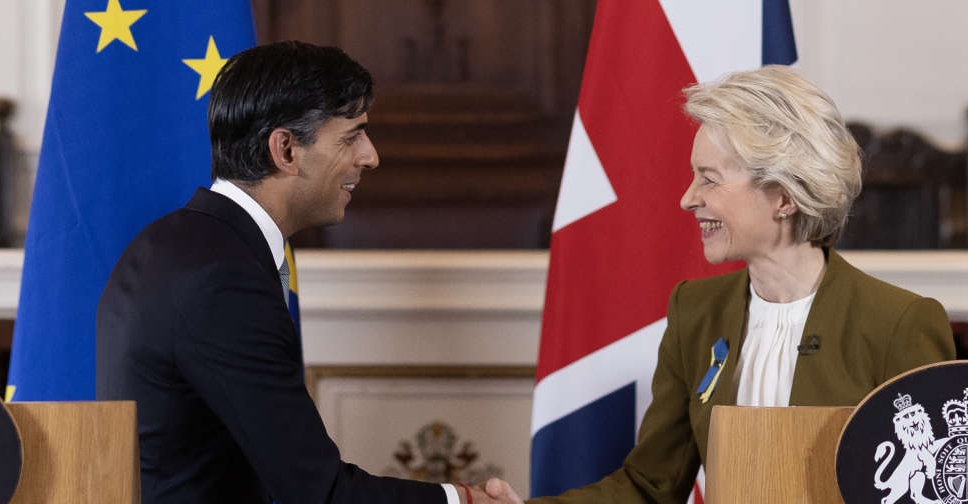 AFP
British Prime Minister Rishi Sunak struck a deal with the European Union on post-Brexit trade rules for Northern Ireland on Monday, saying it would pave the way for a new chapter in London's relationship with the bloc.
Standing alongside European Commission President Ursula von der Leyen at a news conference in Windsor, Sunak said the two sides had agreed to remove "any sense of a border" between Britain and its province - a situation that had angered politicians on both sides.
He immediately won plaudits from business groups who welcomed the easing of trade rules, and an EU promise that it would be willing to allow British scientists to join its vast research programme if Sunak's party accepts the deal.
The agreement marks a high-risk strategy for Sunak just four months after he took office. He is looking to secure improved relations with Brussels - and the United States - without angering the wing of his party most wedded to Brexit.

British Prime Minister Rishi Sunak speaking about the deal with the European Union on post-Brexit trade rules for Northern Ireland on Monday. (Credit: AFP)
The deal seeks to resolve the tensions caused by the Northern Ireland protocol, a complex agreement that set the trading rules for the British-ruled region that London agreed before it left the EU but now says are unworkable.
Its success is likely to hinge on whether it convinces the Democratic Unionist Party (DUP) to end its boycott of Northern Ireland's power-sharing arrangements. These were central to the 1998 peace deal known as the Good Friday Agreement which mostly ended three decades of sectarian and political violence in Northern Ireland.
"I'm pleased to report that we have now made a decisive breakthrough," Sunak said of his new "Windsor Framework". "This is the beginning of a new chapter in our relationship."
The issue of Northern Ireland has been one of the most contentious related to Britain's 2020 departure from the European Union. A return to a hard border between the province and Ireland, an EU member, could have jeopardised the peace deal.
But it remains to be seen whether the new terms will go far enough to end the political deadlock in Northern Ireland, where perceptions that the protocol loosened ties with Britain have angered many unionist communities.
Sunak is likely to talk up the fact he has secured a so-called "Stormont brake", which he said would allow Stormont - the regional assembly - to stop any "changes to EU goods rules that would have significant and lasting effects on everyday lives". He said that would give London a veto on new rules.
Von der Leyen said she hoped the brake could be avoided if the two sides consulted each other extensively when introducing new laws and regulatory changes.