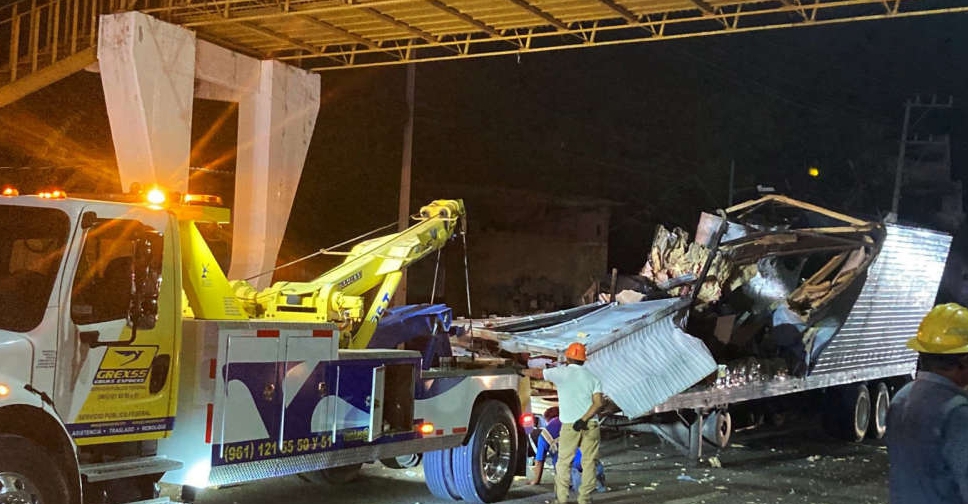 AFP
At least 54 people have died when the truck they were in flipped over in southern Mexico, in one of the worst accidents involving migrants who risk their lives to reach the United States.
The trailer broke open, spilling out people, when the truck crashed on a sharp curve outside the city of Tuxtla Gutierrez in the state of Chiapas, according to video footage of the aftermath and civil protection authorities.
Chiapas Governor Rutilio Escandon said 49 people died at the scene, and five more while receiving medical attention.
"It took a bend, and because of the weight of us people inside, we all went with it," said a shocked-looking Guatemalan man sitting at the scene in footage broadcast on social media.
"The trailer couldn't handle the weight of people."
More than 100 people were inside the trailer, authorities said. Several dozen were injured and taken to hospitals in Chiapas, which borders Guatemala. Dozens of Guatemalan migrants were named in lists of the injured published on social media.
Men, women and children were among the dead, the Chiapas state government said, and President Andres Manuel Lopez Obrador on Twitter expressed his sorrow at the "very painful" incident.
'NOT THE BEST WAY'
Migrants fleeing poverty and violence in Central America typically trek through Mexico to reach the U.S. border, and sometimes cram into large trucks organised by smugglers in extremely dangerous conditions.
"This shows us that irregular migration is not the best way," Kevin Lopez, a spokesman for Guatemala's presidency, told Milenio television after the accident.
He did not know how many Guatemalan victims there were.
El Salvador's foreign minister, Alexandra Hill, said her government was working to see if Salvadorans had died.
Mexico offered lodging and humanitarian visas to the survivors, and Chiapas Governor Escandon said those responsible for the accident would be held to account.