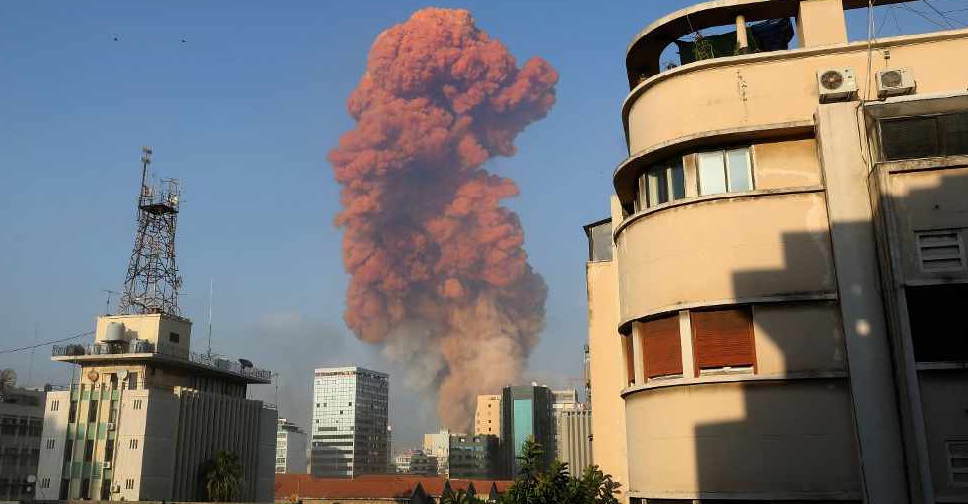 ANWAR AMRO / AFP
At least 50 people have been killed and over 2,500 others injured following a major explosion in Lebanon's capital Beirut.
The blast, which shook several parts of the city occurred in the port area where there are warehouses containing highly-explosive materials.
Initial reports indicate materials seized several years ago that had been stored at the port had blown up but it was not immediately clear what triggered the explosion.
There were also reports of a second blast, which appeared to happen in the same area.
Lebanon's health ministry has instructed all hospitals to prepare to receive the wounded, with the country's health minister indicating the possibility of a "very high number of injuries".
Beirut residents have been sharing images and videos on social media showing extensive damage to property, with shock waves from the blast striking buildings several kilometers away.
Explosion in #Beirut #Lebanon - view from Annahar building. Praying for everyone's safety 🙏🏼😓 pic.twitter.com/Zf6fXaahUq

— Fady Roumieh (@FadyRoumieh) August 4, 2020
BREAKING: Massive explosion in Beirut. Footage from the daily star office now in Lebanon pic.twitter.com/2uBsKP5wCH

— Ghada Alsharif | غادة الشريف (@GhadaaSharif) August 4, 2020
Apparently an explosion broke out at port 12 #beirut pic.twitter.com/onBLrDbRxG

— Zainab Hijazi (@zainabhijazii) August 4, 2020
Many were still trapped in homes and within the area of the blast, while others were being rescued by boat.
Lebanese President Michel Aoun has called for an emergency meeting of the country's Supreme Defence Council tonight to review the latest developments, while the government has declared a national day of mourning on Wednesday for the victims of the explosion.
Meanwhile, world governments are starting to react, with several countries, including the UAE expressing their support and solidarity.
تعازينا لأهلنا في لبنان الحبيبة .. اللهم ارحم من انتقلوا إليك .. اللهم الطف بأهلها ..
اللهم ألهم شعب لبنان الصبر والسلوان .. pic.twitter.com/ZXVqUIXMUk

— HH Sheikh Mohammed (@HHShkMohd) August 4, 2020
J'exprime ma solidarité fraternelle avec les Libanais après l'explosion qui a fait tant de victimes et de dégâts ce soir à Beyrouth. La France se tient aux côtés du Liban. Toujours. Des secours et moyens français sont en cours d'acheminement sur place.

— Emmanuel Macron (@EmmanuelMacron) August 4, 2020
My thoughts and prayers are with those affected by the devastating explosion in #Beirut today. The UK 🇬🇧 stands in solidarity with the people of Lebanon 🇱🇧 and is ready to offer help and support including to those British nationals impacted.

— Dominic Raab (@DominicRaab) August 4, 2020