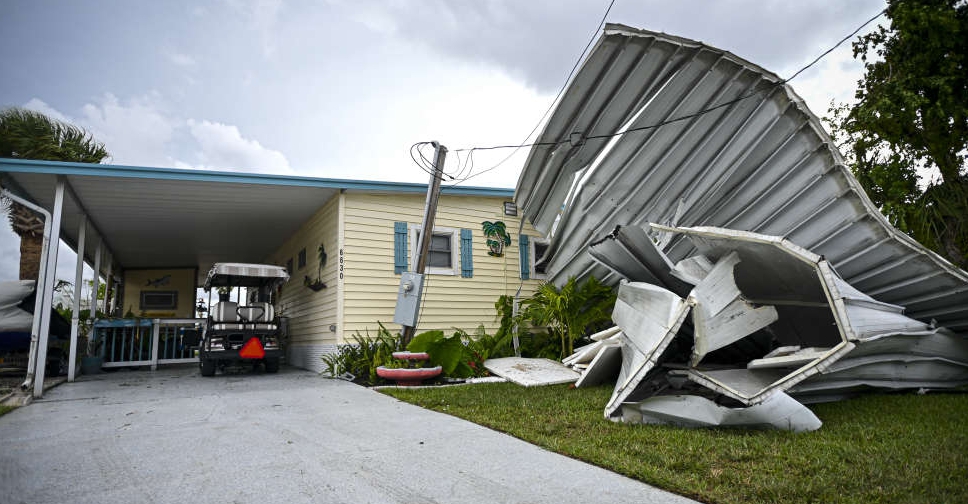 AFP
Hurricane Idalia plowed into Florida's Gulf Coast on Wednesday with howling winds, torrential rains and pounding surf, then weakened as it turned its fury on southeastern Georgia, where floodwaters trapped some residents in their homes.
Hours after Idalia slammed ashore as a powerful Category 3 hurricane at Keaton Beach in Florida's Big Bend region, packing winds of about 201 kph, authorities were still trying to assess the full extent of damage in the hardest-hit areas.
Video footage and photographs from the region around Idalia's landfall showed ocean waters washing over highways and neighborhoods swamped by extensive flooding at midday. Power outages were widespread.
Fierce winds ripped down the roof of a gasoline station in Perry, a town of about 7,000 residents roughly 32 km inland and north of where Idalia came ashore, CNN video showed.
At a late afternoon news conference, Florida Governor Ron DeSantis said no hurricane fatalities had been confirmed and that it seemed most residents in vulnerable, low-lying areas had heeded evacuation orders and warnings to move to higher ground.
But the Florida Highway Patrol reported earlier in the day that two motorists died in separate rain-related crashes on Wednesday morning. DeSantis later said state authorities were investigating one unconfirmed storm-related traffic death.
INSURED LOSSES ESTIMATED AT $9 BILLION-PLUS
Insured property losses in Florida were projected to run $9.36 billion, investment bank UBS said in a research note based on preliminary estimates.
Still, Idalia appeared from early reports to have been far less destructive than Hurricane Ian, a Category 5 storm that struck Florida last September, killing 150 people and causing $112 billion in damage.
The governor said that as many as 565,000 utility customers had lost electricity at some point during and after the storm.
DeSantis was speaking in Perry, which along with other parts of Taylor County bore some of the storm's worst damage. Electricity was out across the town, businesses were all shuttered and many homes were empty.
Florida Transportation Secretary Jared Perdue told the briefing that state National Guard teams were conducting water rescues from vehicles in Hernando and Taylor counties.
Here and there, residents were seen clearing fallen trees and limbs that littered yards and streets, making it difficult to drive through the town. Some homes and other buildings were left in shambles.
About 322 km to the south, at least 75 people were rescued from floodwaters in St. Petersburg, Florida, municipal officials said on social media, with video showing two emergency workers in a small boat plying submerged streets through heavy rains.
As predicted, Idalia crossed Florida's shoreline in the heart of its largely rural Big Bend region, where the state's northern Gulf Coast panhandle curves into the western side of the Florida Peninsula. The area is roughly bounded by the cities of Gainesville and Tallahassee, the state capital.
The same region, featuring a marshy coast and threaded with freshwater springs and rivers, was devastated by a major hurricane in 1896.
Feeding on the warm, open waters of the Gulf Mexico as it churned toward Florida, Idalia gained strength after skirting western Cuba on Monday as a tropical storm.
The hurricane unleashed destructive winds and torrential downpours that were forecast to cause flooding up to 5 m deep along Florida's Gulf Coast. Some 12 hours after landfall, the governor said no drowning victims had been found caught in the storm surge.