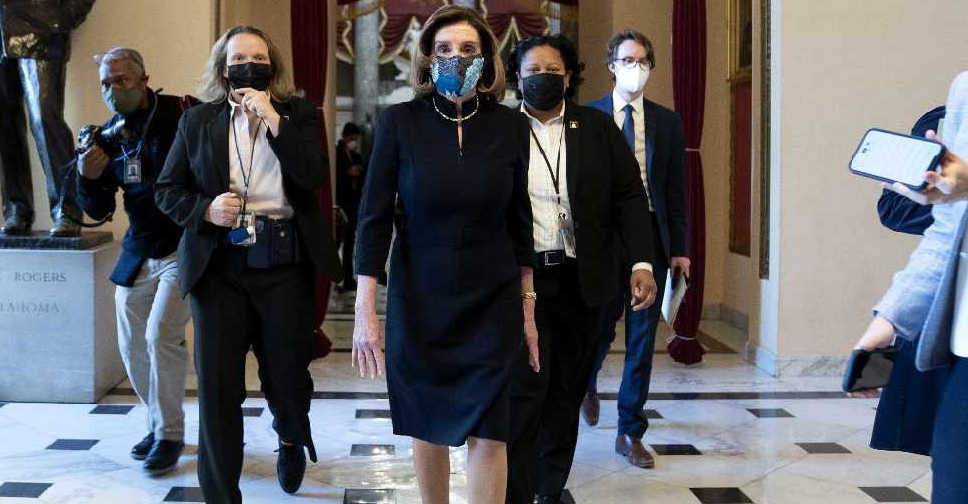 STEFANI REYNOLDS / GETTY IMAGES NORTH AMERICA / GETTY IMAGES VIA AFP
The U.S. House of Representatives held an emotional debate on Wednesday ahead of a vote to impeach President Donald Trump.
The chamber's top Democrat calling him a "clear and present danger," while Republican Senate leaders weighed whether to launch a trial on Friday to consider removing him from office.
With only a week remaining in Trump's tumultuous four-year term, an immediate trial could allow the Senate to vote on whether to oust him before he leaves the White House and Democratic President-elect Joe Biden takes office on January 20.
The House vote is set to be held a week after a pro-Trump mob swarmed the U.S. Capitol shortly after the Republican president delivered an incendiary speech to thousands of supporters.
Around 12:30 p.m. (1730 GMT), the House began debating a single article of impeachment formally charging Trump with inciting insurrection in a speech shortly before the riot.
"We know that the president of the United States incited this insurrection, this armed rebellion against our common country," House Speaker Nancy Pelosi, a Democrat, told her fellow lawmakers. "He must go. He is a clear and present danger to the nation that we all love."
The internal Senate discussions, according to a source familiar with the deliberations, took place as the Democratic-controlled House moved toward impeaching the president for his role in the January 6 siege. The source said no final decision has been reached on the timing of Senate action.
Trump's supporters on January 6 breached the building's security, sent lawmakers fleeing and left five dead in their wake, including a police officer. The mob interrupted the formal certification of Biden's victory in the November 3 election.
Pelosi said Trump has engaged in a "war on democracy," and that the "insurrectionists" and "domestic terrorists" who stormed the Capitol were "sent here by the president."
Trump - already one of only three presidents to be impeached - would become the first president to see it happen twice if the House approves the measure.
Some Republicans made speeches earlier in the day urging the House not to impeach Trump in the interest in promoting national healing.
Under the U.S. Constitution, impeachment in the House triggers a trial in the Senate. Republican Senate Majority Leader Mitch McConnell had previously suggested no trial could begin until the Senate was scheduled to be back in regular session on January 19, only a day before Democratic President-elect Joe Biden is due to be sworn in.
Republican congressman Jim Jordan, a prominent Trump ally who led his party's opposition to the first Democratic-led impeachment in 2019, accused Democrats of pursuing an impeachment drive that he said began soon after Trump's inauguration in 2016.
If Trump is removed from office, Vice President Mike Pence would become president and fill out his term.