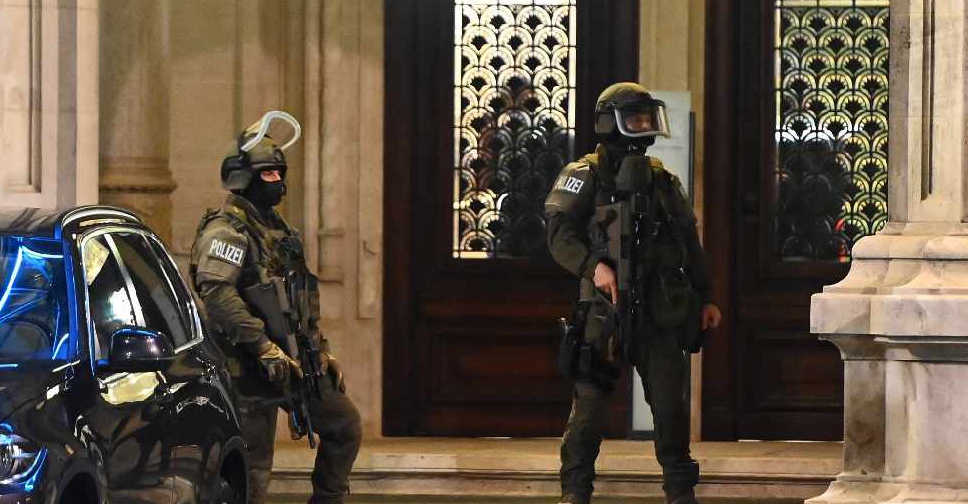 JOE KLAMAR / AFP
Gunmen attacked six locations in central Vienna on Monday, killing five people and injuring at least 14 in what Austria called a "repulsive terror attack" while hunting one or more assailants on the loose.
Witnesses described the men firing into crowds in bars with automatic rifles, as many people took advantage of the last evening before a nationwide curfew was introduced because of COVID-19. Police shot and killed one assailant.
Police sealed off much of the historic centre of Vienna, urging the public to shelter in place. Many sought refuge in bars and hotels, while public transport throughout the old town was shut down and police scoured the city.
In a televised news conference on Tuesday, Austrian Interior Minister Karl Nehammer said one attacker, who was wearing an explosives belt that turned out to be fake, was an "IS sympathiser".
He added that officials believed there was more than one attacker, adding that 1,000 security personnel had been deployed for the manhunt while neighbouring countries had offered assistance.
Chancellor Sebastian Kurz said the "repulsive" act was "definitely a terror attack", but he could not say what the motive was.
Kurz said the army would protect sites in the capital so the police could focus on anti-terror operations. Speaking to ORF, he said the attackers "were very well equipped with automatic weapons" and had "prepared professionally".
Border checks were being reinforced, the Interior Ministry said, and children would not be required to attend school on Tuesday. Although people were urged to stay indoors Vienna Mayor Michael Ludwig told broadcaster ORF the city would run normally on Tuesday, albeit with a tougher police presence.
Videos circulated on social media of a gunman running down a cobblestone street shooting and shouting. One showed a man gunning down a person outside what appeared to be a bar. Reuters could not immediately verify the videos.