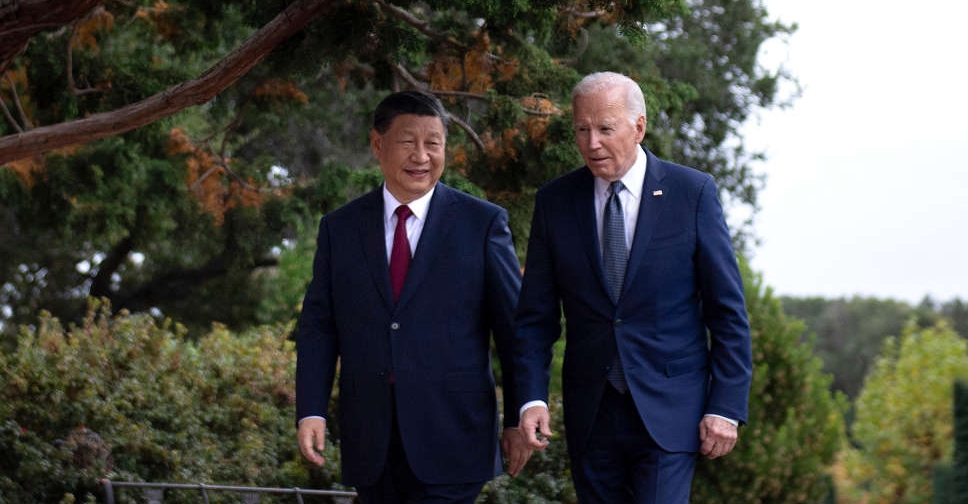 US President Joe Biden and Chinese leader Xi Jinping agreed on Wednesday to open a presidential hotline, resume military-to-military communications and work to curb fentanyl production, showing tangible progress in their first face-to-face talks in a year.
Biden and Xi met for about four hours on the outskirts of San Francisco to discuss issues that have strained US-Chinese relations. Simmering differences remain, particularly over Taiwan.
In a significant breakthrough, the two governments plan to resume military contacts that China severed after then-House of Representatives Speaker Nancy Pelosi visited Taiwan in August 2022.
"We're back to direct, open clear direct communication on a direct basis," Biden said.
In addition, Biden said he and Xi agreed to high-level communications. "He and I agreed that each one of us can pick up the phone call directly and we'll be heard immediately."
Biden and Xi came into the talks looking to smooth over a rocky period in relations that took a turn for the worse after a suspected Chinese surveillance balloon transited the US and was shot down by a US fighter jet in February.
The US leader said he raised areas where Washington has concerns, including detained US citizens, human rights and Beijing's activities in the South China Sea.
"Just talking, just being blunt with one another so there's no misunderstanding," he said.
Biden requested that both countries institutionalise the military-to-military dialogues, and US Secretary of Defence Lloyd Austin will meet his Chinese counterpart when that person is named, a senior US official said.
US and China's militaries have had a number of near-misses and acrimonious exchanges over the past year.
Biden and Xi agreed China would stem the export of items related to the production of the opioid fentanyl, a leading cause of drug overdoses in the US. "It's going to save lives," Biden said, adding he appreciated Xi's "commitment" on the issue.
Under the agreement, China will go directly after specific chemical companies that make fentanyl precursors, a senior US official told reporters.
The two leaders also agreed to get experts together to discuss the risks of artificial intelligence.
Biden said he stressed the need for peace and stability in the Taiwan Strait. The US official said Biden argued to maintain the status quo and for China to respect Taiwan's electoral process.
Biden welcomed the Chinese leader at the Filoli estate, a country house and well-manicured gardens about 48 km south of San Francisco, where they will move later for a summit of the Asia-Pacific Economic Cooperation (APEC) forum.
"Planet Earth is big enough for the two countries to succeed," Xi told Biden as they and their delegations sat across from each other at a long table in an ornate conference room.
After lunch, the leaders took a short walk together in the garden following an interaction that lasted around four hours. Biden waved to reporters and gave a two thumbs-up sign when asked how the talks were going. "Well," he said.
Xi told Biden as they began their talks a lot had happened since their last meeting a year ago in Bali. "The world has emerged from the COVID pandemic but is still under its tremendous impacts. The global economy is recovering, but its momentum remains sluggish."
He called the US-China relationship "the most important bilateral relationship in the world," and said he and Biden "shoulder heavy responsibilities for the two peoples, for the world, and for history".
"For two large countries like China and the US, turning their back on each other is not an option," he said. "It is unrealistic for one side to remodel the other, and conflict and confrontation has unbearable consequences for both sides."