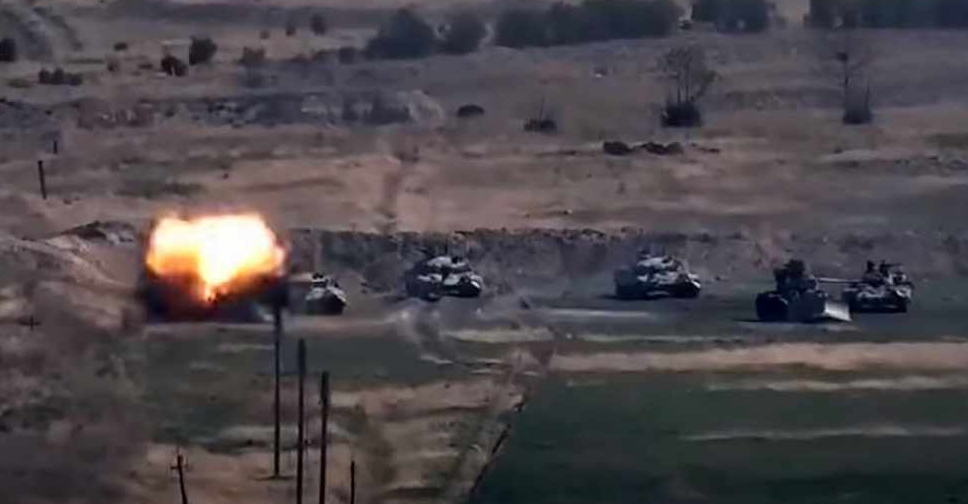 HANDOUT / ARMENIAN DEFENCE MINISTRY / AFP
At least 16 military members and several civilians were killed on Sunday in the heaviest clashes between Armenia and Azerbaijan since 2016.
The clashes between the two former Soviet republics, which fought a war in the 1990s, were the latest flare-up of a long-running conflict over Nagorno-Karabakh, a breakaway region that is inside Azerbaijan but is run by ethnic Armenians.
Nagorno-Karabakh said 16 of its servicemen had been killed and more than 100 wounded after Azerbaijan launched an air and artillery attack early on Sunday. Armenia and Nagorno-Karabakh declared martial law and mobilised the male population.
Azerbaijan, which also declared martial law, said its forces responded to Armenian shelling and that five members of one family had been killed by Armenian shelling.
It also said its forces had seized control of up to seven villages. Nagorno-Karabakh initially denied that but later acknowledged losing "some positions" and said it had suffered a number of civilian casualties, without giving details.
The clashes prompted a flurry of diplomacy to reduce the new tensions in a decades-old conflict between Armenia and Azerbaijan, with Russia calling for an immediate ceasefire and another regional power, Turkey, saying it would support Azerbaijan.
US President Donald Trump said on Sunday they would seek to end the violence. "We're looking at it very strongly," he told a news briefing. "We have a lot of good relationships in that area. We'll see if we can stop it."
The US State Department condemned the violence in a statement, calling for an immediate halt to hostilities and any rhetoric or other actions that could worsen matters.
US Democratic presidential nominee and former Vice President Joe Biden said in a statement that hostilities could escalate into a wider conflict and urged the Trump administration to push for more observers along the ceasefire line and for Russia "to stop cynically providing arms to both sides."
Pipelines shipping Caspian oil and natural gas from Azerbaijan to the world pass close to Nagorno-Karabakh. Armenia also warned about security risks in the South Caucasus in July after Azerbaijan threatened to attack Armenia's nuclear power plant as possible retaliation.