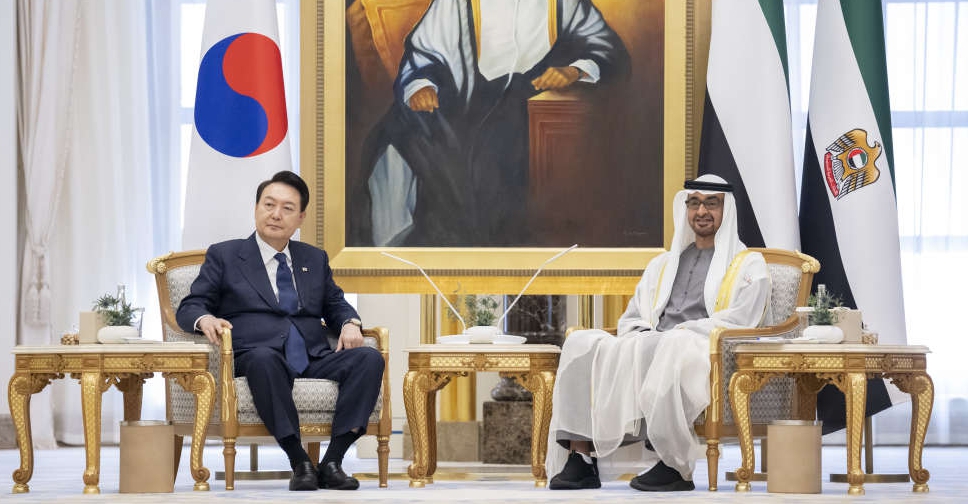 WAM
The UAE is set to invest AED 110 million in strategic sectors in South Korea.
The announcement was made during South Korean President Yoon Suk Yeol's state visit to the UAE.
Under the wider Special Strategic Partnership framework, the UAE pledged an investment of $30 billion in strategic economic and trade sectors in South Korea.
During a summit, held in the UAE capital, Yeol and UAE President His Highness Sheikh Mohamed bin Zayed Al Nahyan agreed on the Trade and Investment Promotion Framework for strengthening trade cooperation between the two countries, acknowledging that trade and investment cooperation is a critical instrument to mitigate global risks and build safe, resilient, and clean bio economy systems.
The leaders also agreed to work together through the UAE's Entrepreneurial Nation initiative to expand exchange and promote mutual investment between SMEs and startups between the two countries.
They also agreed to establish a Comprehensive Strategic Energy Partnership (CSEP) to strengthen cooperation across key energy sectors, including oil & gas, strategic storage, renewable energy, hydrogen, and hydrogen derivatives.
As many as 13 deals were signed in four key areas: conventional energy and clean energy, peaceful nuclear energy, economy and investment, and defense and defense technology; as well as in other areas of mutual interest including space, emerging industries and culture.
The South Korean leader's state visit will conclude on Tuesday.