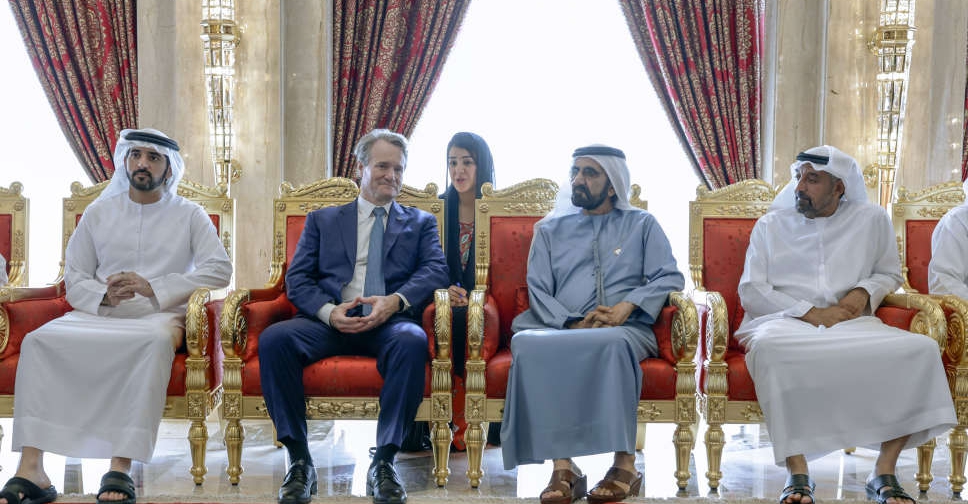 @DXBMediaOffice/ Twitter
His Highness Sheikh Mohammed bin Rashid Al Maktoum, Vice President and Prime Minister of the UAE and Ruler of Dubai, today met with Brian Moynihan, Chairman and CEO of Bank of America.
The meeting, which was held at the Za'abeel Palace, in the presence of Dubai's Crown Prince His Highness Sheikh Hamdan bin Mohammed bin Rashid Al Maktoum, discussed the vast opportunities emerging for global financial institutions from the UAE's ambitious growth aspirations.
It also explored how the UAE and Dubai can further support Bank of America in enhancing its business operations both in the country and across the region.
Sheikh Mohammed said the UAE continues to build a strong network of partnerships with global banking and financial services companies to realise its vision of being one of the largest global destinations for innovation, investment, enterprise and talent in the industry.
The meeting touched on the UAE's plans to further consolidate its status as an international focal point for generating economic value and catalysing transformation in the financial sector.
Highlighting one of the key goals of the recently announced D33 Economic Agenda to transform Dubai into one the world's top four global financial centres, His Highness said the UAE continues to be at the forefront of adopting new technologies and innovative models that are changing the face of the financial industry.
Bank of America is a global leader in wealth management, corporate and investment banking and trading across a broad range of asset classes, serving approximately 68 million consumer and small business clients with about 3,900 retail financial centres.
The conglomerate has operations in 35 countries and has a global workforce of over 213,000.
Bank of America's subsidiary Merrill Lynch established its headquarters for the Middle East and North Africa region in the Dubai International Financial Centre in 2007.
The Chairman and CEO of Bank of America said the UAE and Dubai represent a major global base for the company to expand its worldwide business and advance innovation.
The company continues to be committed to growing its business out of the UAE, he added.
The meeting was attended by His Highness Sheikh Ahmed bin Saeed Al Maktoum, Chairman of Dubai Civil Aviation Authority, Chairman of Dubai Airports and Chairman and Chief Executive of Emirates Airline and Group; H.H. Sheikh Ahmed bin Mohammed bin Rashid Al Maktoum, Chairman of the Dubai Media Council; H.H. Sheikh Mansoor bin Mohammed bin Rashid Al Maktoum, Chairman of Dubai Sports Council.
During the meeting, @HHShkMohd discussed with Moynihan the vast opportunities emerging for global financial institutions from the UAE's ambitious growth aspirations, including the D33 Agenda's goal of making Dubai one of the world's top four financial centres by 2033. pic.twitter.com/LulFKaSuv4

— Dubai Media Office (@DXBMediaOffice) January 10, 2023