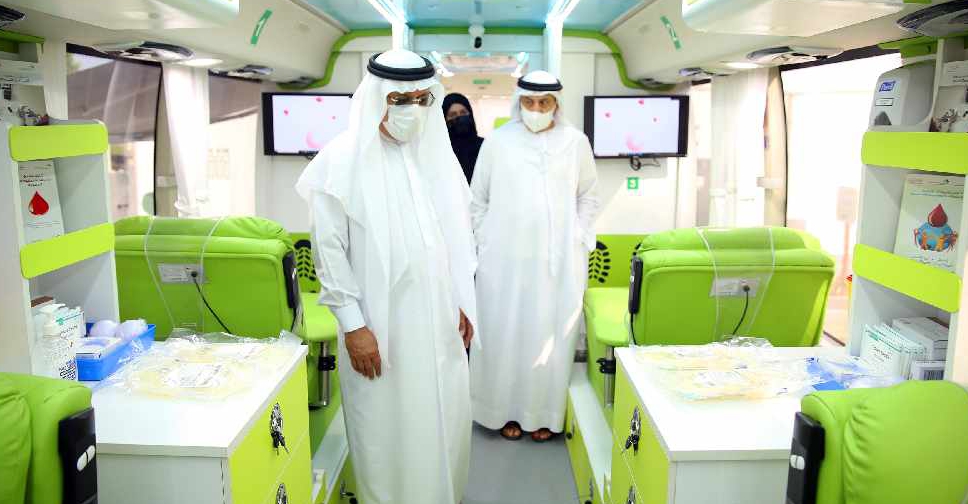 Supplied
A special bus, equipped with smart technologies, has been launched in Dubai to reach out to blood donors.
The environmentally-friendly vehicle will travel across the emirate to reach donors at locations that are convenient to them while ensuring that appropriate measures are implemented to combat COVID-19.
It has been rolled out by the Dubai Health Authority (DHA) with the support of its strategic partner, Dubai Holding.
The bus, which is manufactured in the UAE has four electric blood donation beds, multiple smart screens and smart panels to fill in donors' data, in addition to a resting area for donors.
It also has a laboratory and a medical examination room as well as refrigerators to store blood and medical devices that are in line with the highest international quality and safety standards.
"The DHA is keen to provide the best blood donation systems in terms of equipment and technologies to ensure high standards of blood safety, the safety of donors and their comfort," said Humaid Al Qutami, Director-General of the DHA.
Khalid Al Malik, Managing Director of Dubai Holding said: "We are proud to be contributing to such an important mission that supports public health and social impact. The state-of-the-art blood donation bus, donated by Dubai Holding, will enhance community outreach efforts and provide added convenience to blood donors."
"This will help to increase blood donations from across the city, enabling medical professionals to save more lives. With the arrival of the bus, weekly visits are set to kick-off; they will reach people in different parts of Dubai, including all of Dubai Holding's communities and destinations," Al Malik added.
DHA supported by @DubaiHolding inaugurated today a new advanced blood donation bus in the presence of H.E Humaid Al Qutami, H.E Khalid Al Malik and other officials from both sides. pic.twitter.com/dvFnSHESbl

— هيئة الصحة بدبي (@DHA_Dubai) November 15, 2020