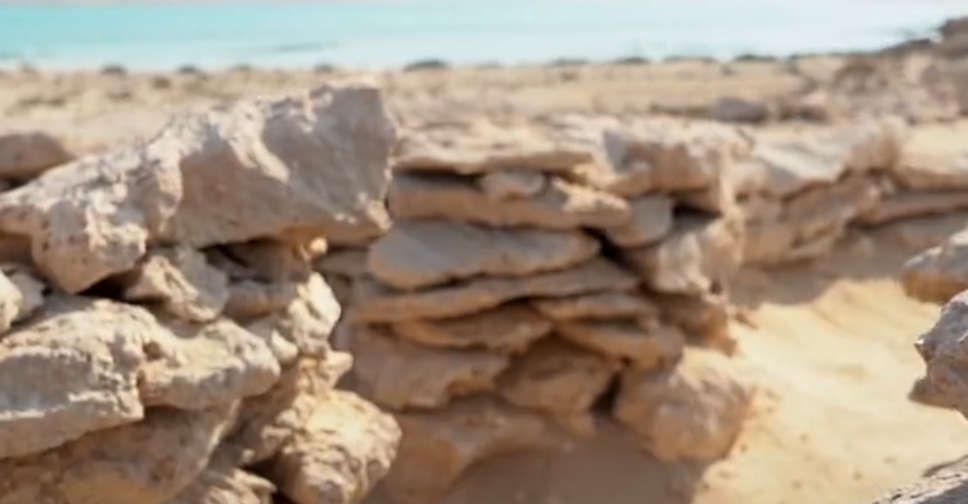 The remains of buildings dating back more than 8,500 years have been unearthed in Abu Dhabi.
They were discovered on the island of Ghagha, by archaeologists from the Department of Culture and Tourism.
The stone structures reveal a compelling and even more ancient history of the UAE - at least 500 years earlier than previously thought.
Until the excavations of Ghagha, the earliest known structures in the country were found on the island of Marawah, also off the coast of Abu Dhabi.
The latest evidence from Ghagha indicates that the islands of Abu Dhabi were a focal point for human innovation and settlement during the Neolithic period – a time of fundamental change throughout much of the world.
The structures that have been uncovered are simple round rooms, the walls of which are made from stone and preserved to nearly one metre in height.
The rooms were likely houses for a small community who may have lived on the island year-round.
Hundreds of artefacts were found in the rooms, including finely worked stone arrowheads that would have been used for hunting.
It is likely that the community would also have used the rich resources of the sea.
How long the settlement existed is unknown, but after it was abandoned, it apparently remained an important part of the cultural landscape, as nearly 5,000 years ago a person was buried in the ruins of the structures.
It is one of the few burials from this period known on the Abu Dhabi islands.
The latest discovery is part of an emirate-wide archaeological programme to preserve and promote Abu Dhabi's ancient history and cultural heritage.
Our archaeologists have discovered evidence of the earliest known buildings in the UAE and wider region, on the island of Ghagha, west of Abu Dhabi city. Dating back more than 8,500 years, the stone-built structure reveal a compelling and even more ancient history of the nation. pic.twitter.com/VIuKJNYUtK

— Department of Culture and Tourism - Abu Dhabi (@dctabudhabi) February 17, 2022
The discoveries on Ghagha Island compel a new understanding of our history and reinforce the deep cultural connections between the people of the UAE and the sea.

To learn more, visit: https://t.co/3TrKmP94mw

#InAbuDhabi pic.twitter.com/XtR0DMA5WN

— Department of Culture and Tourism - Abu Dhabi (@dctabudhabi) February 17, 2022