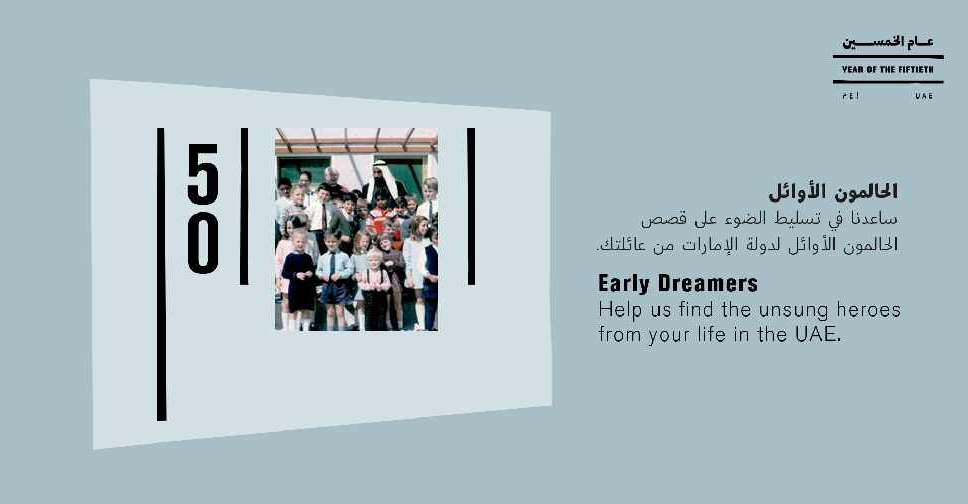 @UAEYearOf/ Twitter
A year-long initiative has been launched in the UAE for citizens and residents to share inspiring stories of the unsung heroes who have helped shape the nation.
The 'Early Dreamers' project has been announced by the UAE's Golden Jubilee Committee in partnership with the Federal Youth Authority.
Throughout the year, the stories of these 'Early Dreamers' will be shared and celebrated on the 'Year of the 50th' digital channels, allowing people across all seven emirates to honour their contributions.
The tales will also serve as inspiration for the upcoming 50th National Day celebrations.
The initiative's first phase, which will run from April 25 to June 30 will reflect on the stories of those who have had an impact on the UAE's first 50 years.
Its subsequent phases will focus on capturing the hopes and ambitions of our current and future dreamers, as we embark on our journey towards the next 50 years.
The stories and supporting photographs or videos can submitted by visiting www.UAEyearof.ae
"Through our Early Dreamers, we hope to give names and faces to the people whose ambitions have contributed to the UAE's success story," said Shamma bint Suhail Faris Al Mazrui, Minister of State for Youth and member of the UAE Golden Jubilee Committee.
"These dreamers can be found in every household across the country. Hearing their stories will help us understand what it took to get to where we are today, and allow us to recognize and celebrate their contributions as we prepare for the future," she added.
Together with @EmiratesYouth, we launch the #EarlyDreamers initiative to capture the stories of the unsung heroes who shaped the UAE's first 50 years.
Who are the Early Dreamers in your family? Visit https://t.co/cs19ZwW8W5 to share their stories now. pic.twitter.com/7G0l9RRtTp

— The Year of the 50th (@UAEYearOf) April 25, 2021