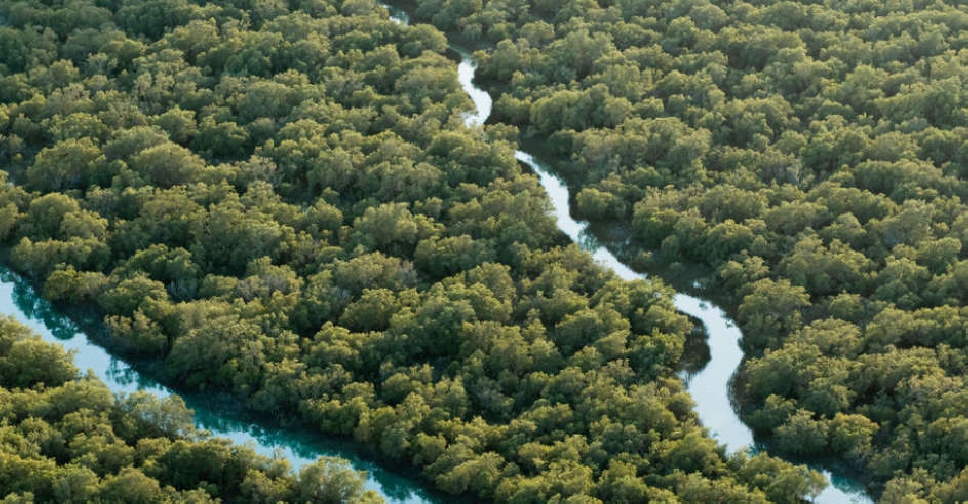 Ten mangrove trees will be planted in Abu Dhabi for each visitor attending the COP28 summit later this year.
The Environment Agency – Abu Dhabi said these trees will be planted using drone technology in the last quarter of this year.
Targeted locations include Marawah Marine Biosphere Reserve, Al Mirfa City and Jubail Island where natural mangroves already exist.
The initiative, which coincides with the Year of Sustainability, supports the UAE's National Net Zero 2050 initiative and the country's goal of planting 100 million mangroves by 2030.
It also aims to reduce the environmental footprint of COP28 visitors, at the rate of absorbing one tonne of carbon for every 5,000 mangrove trees.
The United Nations Climate Change Conference, COP28, which runs at Expo City Dubai from November 30 to December 12, is expected to attract over 70,000 participants.
"Nature-based solutions, including those involving mangroves, have the potential to supply over a third of our climate mitigation needs and build resilience to the effects of climate change. I welcome this EAD-led initiative which both raises awareness and takes action to restore and protect mangroves in the UAE," said Razan Al Mubarak, UN Climate Change High-Level Champion for COP28.
Under the patronage of Hamdan bin Zayed, the Ghars Al Emarat Initiative, launched by @EADTweets as part of the Abu Dhabi Climate Change Strategy, will plant 10 mangrove trees for each COP28 UAE participant to offset their carbon footprint and achieve climate neutrality. pic.twitter.com/TE5mu4Az9S

— مكتب أبوظبي الإعلامي (@ADMediaOffice) September 5, 2023
Mangroves are among the most productive coastal ecosystems in the world. They help mitigate the effects of climate change, as they absorb greenhouse gases and can store and sequester carbon.
Abu Dhabi hosts 85 per cent of the UAE's mangroves and as part of its strategy, the EAD is working to study and preserve these important coastal habitats.
Thanks to mangrove rehabilitation projects, Abu Dhabi has witnessed an increase in the size of its mangrove areas.
Efforts to restore mangroves in the UAE date back to the 1970s, when the late Sheikh Zayed launched extensive afforestation programmes to plant mangroves on the country's beaches.