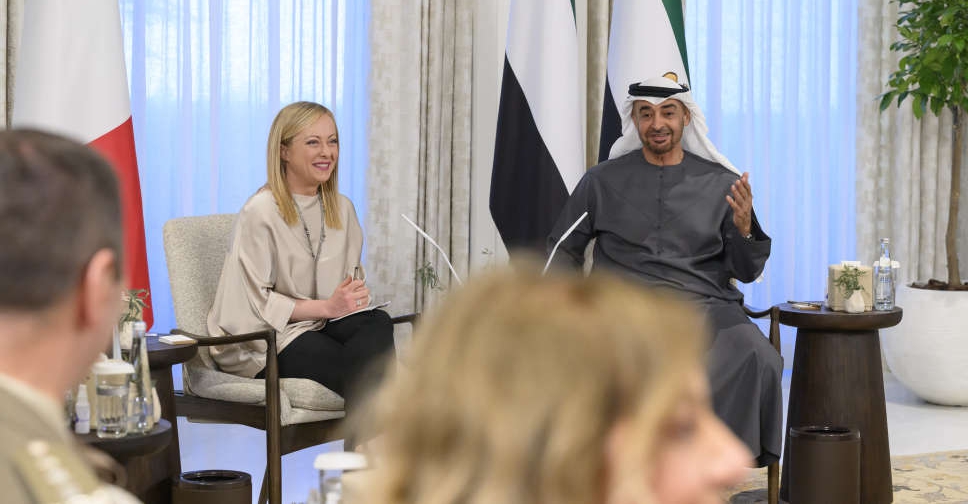 WAM
President, His Highness Sheikh Mohamed bin Zayed Al Nahyan received Giorgia Meloni, Prime Minister of Italy, on a two-day visit to the UAE.
During the Meeting, held in Al Shati Palace, His Highness Sheikh Mohamed welcomed Prime Minister Meloni, expressing his hopes for her first visit to the UAE to constitute a strong impetus for the development of relations between the two friendly countries.
The two sides discussed cooperation paths and opportunities to build a strategic partnership between their two countries during the next stage, especially in the economic, investment and trade fields, as well as energy security, renewable energy, clean technologies and sustainable development, in addition to addressing the repercussions of climate change, food security, industry and advanced technology and other aspects of common concern to both countries.
They also reviewed a number of developments on the regional and international arenas, and exchanged views on issues of mutual interest, stressing the importance of dialogue and prioritising diplomatic solutions and cooperation to address various crises, enhance stability and security, and achieve a better future for current and future generations.
The two leaders expressed their aspirations for joint work to accelerate the pace of development in bilateral relations to build on what has been achieved over the past years.
The meeting also touched on the importance of the United Nations Climate Change Conference of the Parties (COP28), which the UAE is hosting this year.
President His Highness Sheikh Mohamed bin Zayed underscored the depth of the UAE-Italy ties, which are highlighted by strong partnerships, affirming the UAE's keenness to develop them to serve the mutual benefits of the two countries.
He also emphasised the UAE's support of peace and cooperation through dialogue and diplomacy, stressing its full readiness to cooperate with Italy to achieve stability and development both regionally and globally.
His Highness Sheikh Mohamed expressed his hopes for an active and influential Italian participation in COP28, highlighting Italy's great interest in the issue of climate change and reaching climate neutrality by 2050, which is the same date set by the UAE to achieve this goal.
For her part, Prime Minister Meloni underscored her country's keenness to enhance cooperation and joint work with the UAE to serve their mutual benefit and consolidate the pillars of security and stability, noting to the two countries' corresponding vision on issues of mutual interest, adding that the UAE is an important partner to Italy across various domains.
The meeting was attended by H.H. Sheikh Mansour bin Zayed Al Nahyan, Deputy Prime Minister and Minister of the Presidential Court; H.H. Sheikh Abdullah bin Zayed Al Nahyan, Minister of Foreign Affairs and International Cooperation; H.H. Sheikh Khaled bin Mohamed bin Zayed, Member of Abu Dhabi Executive Council and Chairman of Abu Dhabi Executive Office; Sheikh Mohammed bin Hamad bin Tahnoun Al Nahyan, Advisor for Special Affairs at the Ministry of Presidential Court; Ali bin Hammad Al Shamsi, Deputy Secretary-General of the Supreme National Security Council; Dr. Anwar Gargash, Diplomatic Adviser to the UAE President; Reem bint Ibrahim Al Hashemy, Minister of State for International Cooperation; Suhail bin Mohammed Al Mazrouei, Minister of Energy and Infrastructure; and Dr. Sultan bin Ahmed Al Jaber, Minister of Industry and Advanced Technology.
Also attending the meeting were Antonio Tajani, Deputy Prime Minister and Minister of Foreign Affairs and International Cooperation; Lorenzo Fanara, Ambassador of the Republic of Italy to the UAE; and a number of senior officials accompanying the Italian Prime Minister.