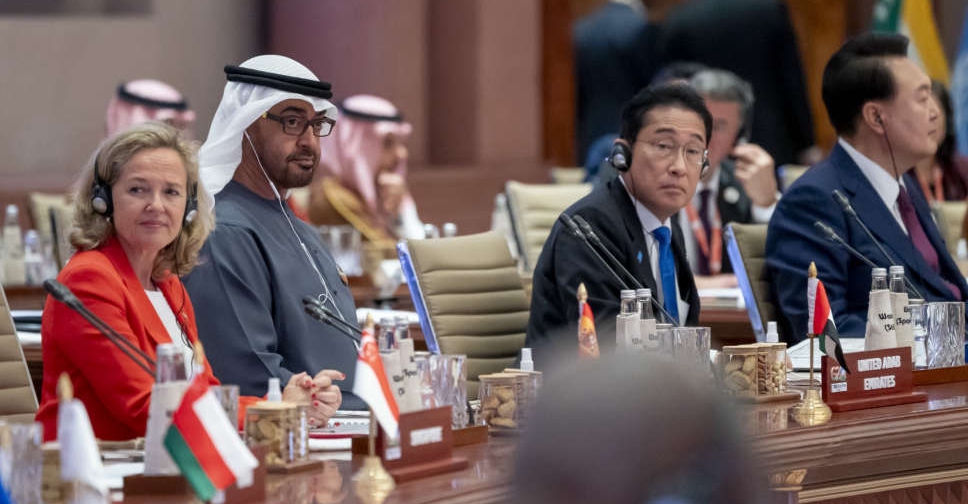 X/@mohamedbinzayed
UAE President Sheikh Mohamed bin Zayed Al Nahyan met with several world leaders and heads of state participating in the 18th Group of 20 (G20) Heads of State and Government Summit hosted by India.
His Highness the President met individually with Emmanuel Macron, President of the French Republic; Joko Widodo, President of the Republic of Indonesia; Recep Tayyip Erdoğan, President of the Republic of Türkiye; Alberto Fernández, President of the Argentine Republic; Lee Hsien Loong, Prime Minister of Singapore; Sheikh Hasina, Prime Minister of the People's Republic of Bangladesh; and Pravind Kumar Jugnauth, Prime Minister of the Republic of Mauritius.
During the meetings, His Highness discussed with the leaders cooperation between the UAE and their respective countries and ways to develop mutually beneficial ties in various fields while meeting shared aspirations for development and prosperity. His Highness and the leaders also exchanged views on various topics of joint interest.
The discussions addressed issues raised at the G20 Summit, with His Highness emphasising the significance of fostering cooperation to identify effective solutions to pressing global challenges, particularly concerning climate action, sustainability, and energy transition, among others. Additionally, His Highness' discussions with the leaders highlighted the UAE's upcoming hosting of the Conference of the Parties to the UN Framework Convention on Climate Change (COP28) in November.
In this regard, Sheikh Mohamed bin Zayed Al Nahyan underscored the UAE's commitment to supporting initiatives that drive sustainable progress, prosperity, and well-being for all people in efforts to secure a brighter future for generations to come.
The meetings were also attended by H.H. Sheikh Abdullah bin Zayed Al Nahyan, Minister of Foreign Affairs; H.H. Sheikh Hamdan bin Mohamed bin Zayed Al Nahyan; Sheikh Mohammed bin Hamad bin Tahnoon Al Nahyan, Advisor for Special Affairs at the Presidential Court; Ali bin Hammad Al Shamsi, Secretary-General of the Supreme Council for National Security; Reem bint Ebrahim Al Hashimy, Minister of State for International Cooperation; Dr. Sultan bin Ahmed Al Jaber, Minister of Industry and Advanced Technology; and Khaldoon Khalifa Al Mubarak, Chairman of the Executive Affairs Authority and Member of the Abu Dhabi Executive Council.