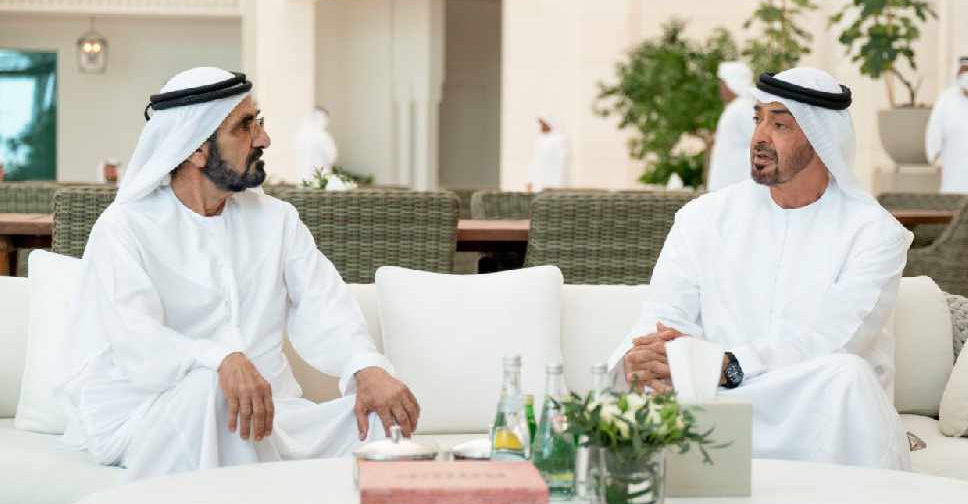 @DXBMediaOffice/ Twitter
Two of the UAE's leaders held discussions on the country's post-pandemic development plans during a meeting in Abu Dhabi on Sunday.
His Highness Sheikh Mohamed bin Zayed Al Nahyan, Crown Prince of Abu Dhabi and Deputy Supreme Commander of the UAE Armed Forces, received His Highness Sheikh Mohammed bin Rashid Al Maktoum, Vice President and Prime Minister of the UAE and Ruler of Dubai, at Al Shati Palace.

During the meeting, their Highnesses reviewed several issues concerning the nation and its citizens, most notably those related to providing Emirati nationals with decent lives and achieving their happiness and social stability.
They discussed efforts to address the COVID-19 pandemic, reduce its repercussions on different areas of life and ensure the return to normalcy as soon as possible.
The talks also touched on the work of the late Founding Leaders to establish the country's foundations and its process of development, stressing that they will follow their legacy and preserve their achievements.
His Highness Sheikh Mohamed bin Zayed Al Nahyan receives His Highness Sheikh Mohammed bin Rashid Al Maktoum at Al Shati Palace in Abu Dhabi.https://t.co/powBFQMpwU pic.twitter.com/2gvUGtbVtv

— Dubai Media Office (@DXBMediaOffice) May 2, 2021