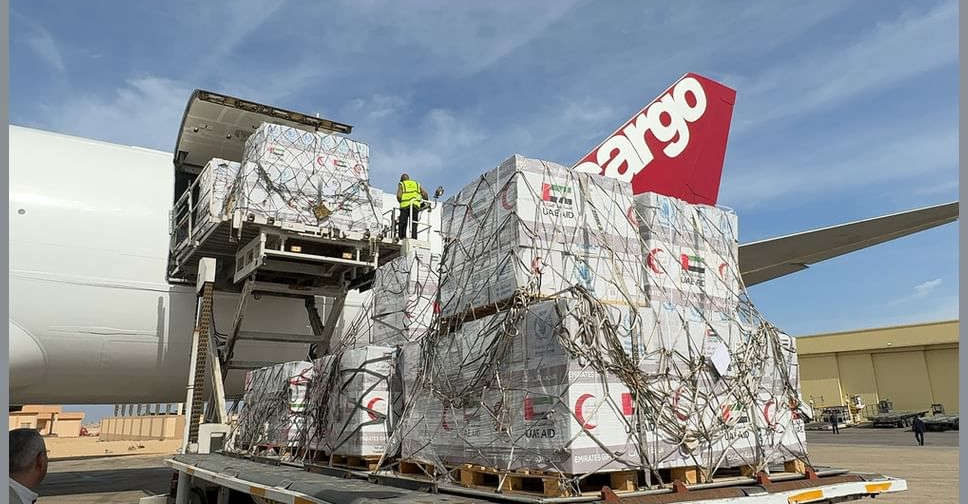 The UAE dispatched 100 tonnes of food, medical, and relief supplies to El Arish city in Egypt in preparation to enter the Gaza Strip via the Rafah Border Crossing in coordination with the UN World Food Programme.
The plane was sent today as an extension to the humanitarian efforts of the "Tarahum for Gaza" campaign,
The extension is part of the UAE's continuous humanitarian efforts to provide essential food, medicine, health supplies, and sanitary products for those affected in the Gaza Strip, particularly women, children, and the elderly.
Sultan Al Shamsi, Assistant Minister for Development and International Organisations Affairs, said, "Dispatching the plane carrying humanitarian aid is part of the UAE's efforts towards alleviating the current humanitarian conditions in Gaza and supporting the country's unwavering efforts since the beginning of the crisis to deliver urgent food and medical supplies for the affected population in Gaza."
Al Shamsi added that the "Tarahum for Gaza" campaign, which was launched last month with significant participation from all segments of society, humanitarian organisations, and volunteers, reinforces the UAE's endeavours to provide relief for the Palestinians, reflecting the deep-rooted values of giving and human solidarity of the country.