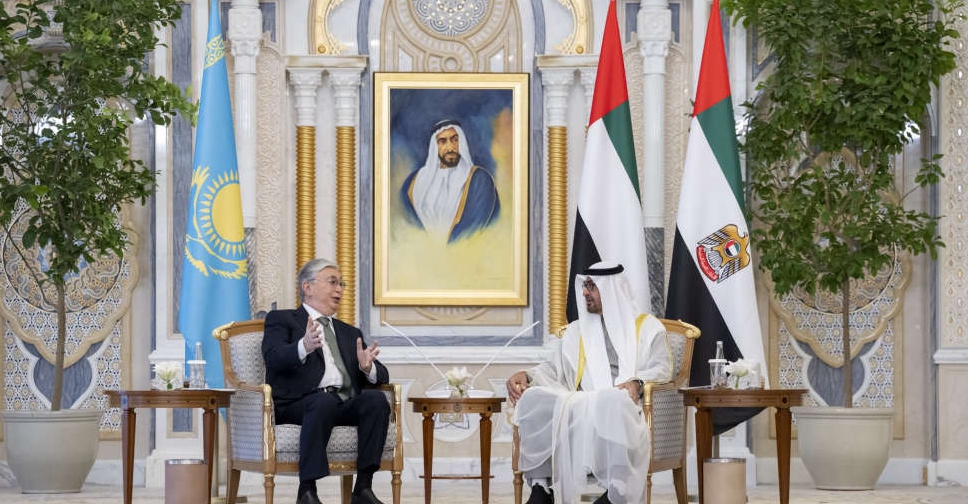 The UAE's President His Highness Sheikh Mohamed bin Zayed Al Nahyan and his Kazakh counterpart Kassym-Jomart Tokayev have discussed ways to expand the strategic partnership between their countries.
The two leaders held talks at Qasr Al Watan in Abu Dhabi, where Tokayev received a guard of honour on arrival.
They discussed opportunities for cooperation in various areas across investment, trade, development, renewable energy and other fields that contribute to serving the common interests of their nations.
Sheikh Mohamed and Tokayev also exchanged views on a number of issues of mutual concern, and witnessed the signing of several agreements.
The meeting touched on the importance of Abu Dhabi Sustainability Week (ADSW) as a global platform that contributes to driving climate action and efforts to accelerate the pace of sustainable development globally.
Sheikh Mohamed also said he is looking forward to seeing Kazakhstan actively participate in the COP 28 conference, which the UAE is set to host later this year.
His Highness affirmed that the UAE-Kazakhstan relations have grown especially strong because they have been built on mutual understanding since the establishment of diplomatic relations between the two countries in 1992.
For his part, President Tokayev thanked Sheikh Mohamed for the warm welcome, stressing that the outcome of his visit to the UAE will serve as a strong impetus for the development of bilateral relations.
He noted that the UAE is a key strategic partner for Kazakhstan in the Middle East and the Arab world, and has supported Kazakhstan since its independence, and that the Kazakh people will not forget this support, especially the UAE's role in establishing the new capital of Kazakhstan.
I was pleased to meet with President Kassym-Jomart Tokayev. We discussed collaboration & witnessed the signing of several agreements. We are committed to continuing to strengthen our brotherly relations with Kazakhstan to build on the strategic partnership between our nations. pic.twitter.com/lveceCFEU9

— محمد بن زايد (@MohamedBinZayed) January 17, 2023