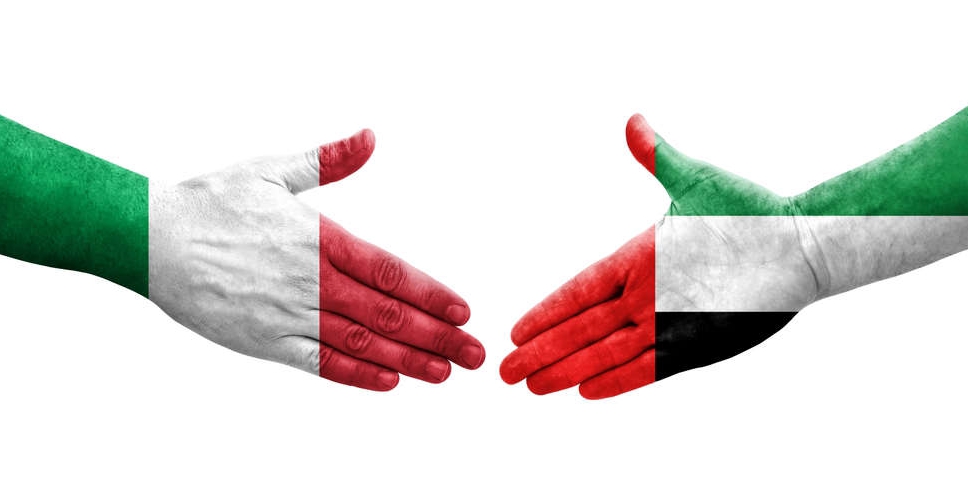 Shutterstock
The United Arab Emirates and the Republic of Italy have announced the promotion of their relations to the level of Strategic Partnership.
The announcement came during a meeting held today between President His Highness Sheikh Mohamed bin Zayed Al Nahyan and Italy's Prime Minister Giorgia Meloni at Al Shati Palace in Abu Dhabi.
During the meeting, the two sides announced a "Declaration of Intent" on enhancing cooperation within the United Nations Climate Change Conference of the Parties (COP28) and climate action, in addition to a Memorandum of Understanding (MoU) for cooperation on energy transition projects and sustainability initiatives between ADNOC and the Italian energy group Eni.
The MoU aims to strengthen cooperation in the field of emissions reduction, new energy technologies and low-carbon solutions.
It also contributes to enhancing the long-term strategic partnership between the two companies, boosting energy security and accelerating low-carbon economic and industrial growth.
Areas of cooperation include reducing carbon emissions, with a focus on carbon capture, utilisation and storage technologies, enhancing energy efficiency, joint investment in green hydrogen, and renewable and clean energy.
Below is the full text of the declaration of promoting relations to a strategic partnership:
"The governments of the United Arab Emirates and the Republic of Italy, based on the strong ties binding the two countries and the common objectives and mutual interests of both governments, and on the occasion of the first visit of Italy's Prime Minister Giorgia Meloni to the UAE, during which she met with President His Highness Sheikh Mohamed bin Zayed Al Nahyan, where they held discussions and exchanged views on the latest international developments and explored ways to increase cooperation in the fields of political, economic, humanitarian, cultural, climate and energy transformation between the two countries, while emphasising the commitment of their two governments to strengthen bilateral relations between the UAE and Italy on the basis of confidence, understanding and mutual respect to achieve the benefit and prosperity of their two peoples, and pursuant to all agreements and memoranda of understanding concluded between the UAE and Italy, and recognising the progress currently made in the field of multidimensional and multifaceted cooperation, the two sides agreed to promote bilateral relations as an embodiment of their common and strong determination to cooperate at all levels.
The UAE and Italy share common goals, including achieving sustainable development and economic growth, strengthening cooperation with the international community, prosperity and stability, and traditional values of peace, tolerance, human fraternity, coexistence, dialogue and openness.
This strategic partnership will enable the UAE and Italy to focus their joint efforts towards expanding and deepening the horizons of cooperation in areas of mutual strategic interest, including political, diplomatic, international, economic and trade cooperation, in addition to collaboration in the field of direct investment and partnerships between various sectors, including healthcare and sustainable development, food and water security, cooperation in industry and advanced technology, defence and climate change, renewable energy and clean technologies, energy security and transition, education, culture, people-to-people exchanges, sports and other vital areas."